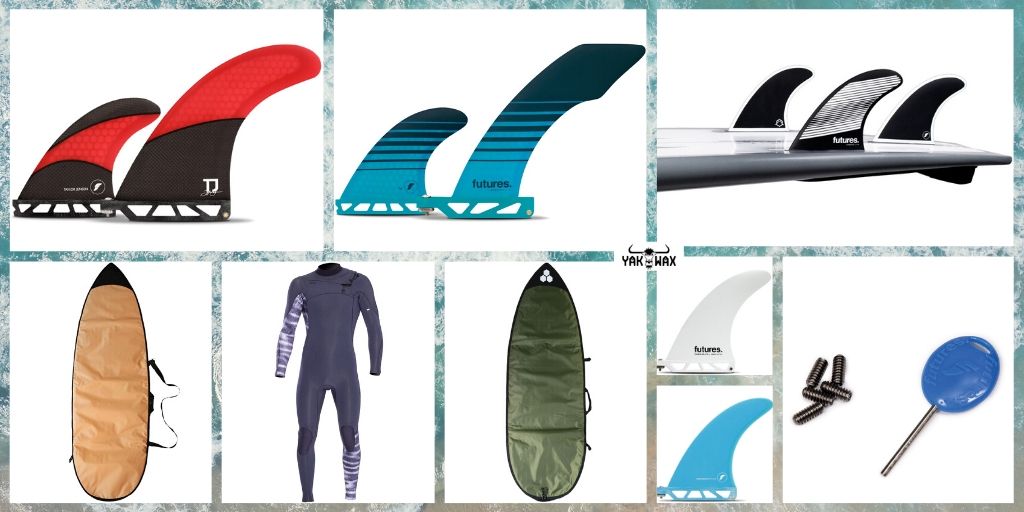 No matter the season, surfing will always be among the favourite water sports of today's super active individuals. So, it is a must to be prepared with proper surf gear, attire and accessories whenever the waters call you.

For travelling surfers, a bagful of surfing necessities like wetsuit, fins, leashes and ding repair are always handy when the need arise. As for your surfboards, it is essential to have quality board bags to keep them from getting damaged in/on the car or while travelling on a plane.

You may not be needing anything new at this time, but stocking up on surf gear and accessories will give you peace of mind whenever you head out for a shred. Remember that these items will wear out over time, so having one or two extras in your travel bag can assure you'll have long hours of hassle-free surfing.

This is why we are stoked to announce that we've got some of the latest surf gear for 2020 right here at the Yakwax store! Start by browsing below for that planned surfing session this month to ensure you're all geared up and ready to go anytime.
These are our top five picks from this latest drop of surfing accessories
Whether you ride a surfboard or longboard, these Futures Hatchet 2+1 Honeycomb Surfboard Fins (Teal Stripes) will get you through any type of conditions. These fins are flexible and lightweight, thanks to Futures honeycomb construction.
The Channel Islands Dane Reynolds Day Runner Surfboard Bag (Black/Chartreuse Yellow) is ideal for transport and travel. This board bag is designed with ample reinforcements, and with foam padding to keep your board safe from scratches and dents.
If you love surfing cold waters, the new Xcel Men's 4/3mm Comp X 2019/20 Wetsuit (Gunmetal Tiger Shark) will let you shred in style. This wetsuit is designed with Thermodry Celliant lining and 4/3mm thickness to ensure you're warm and comfortable.
If you need lightweight fins with medium flex, the Futures Jordy Smith Honeycomb Thruster Surfboard Fins (Black/White Camo) are perfect for your shredding style.
Never leave home without Futures Replacement Key and Screw Kit. Always be prepared every time you shred, so make sure to keep this kit in your bag whenever you head out to surf.

When you can't put off surfing even in today's cold weather, just make sure you have the proper surfing accessories available within your reach. No need to look elsewhere! Order here at Yakwax with FREE UK delivery.