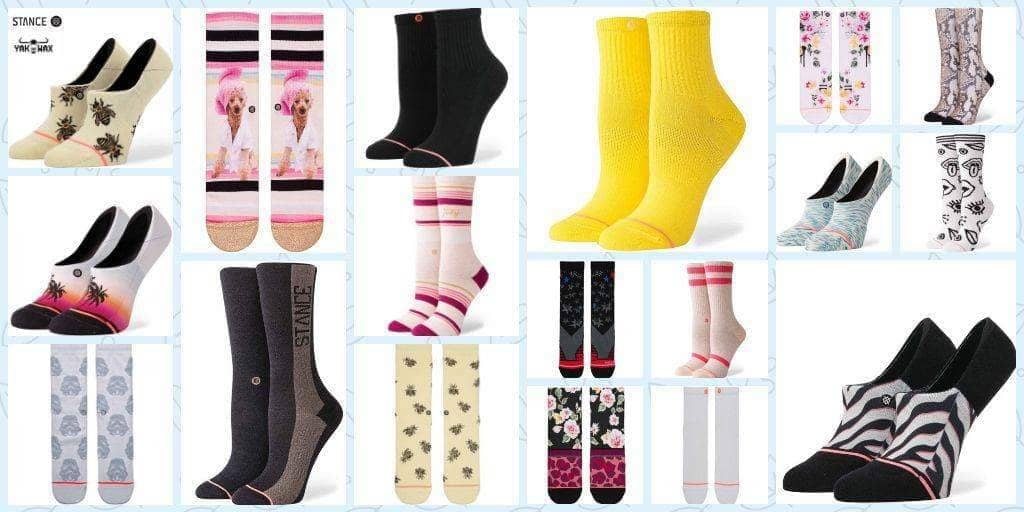 Women's socks are no longer just for function as they have become one of the integral parts of women's fashion. They are available in various colours, designs and lengths to suit the specific needs of the female wearer, and at the same time provide a touch of style.

Among the coolest and most stylish women's socks today are made by Stance. The brand is known all over the world as the 'king of socks' for their innovative designs, materials and processes. This is why we are stoked to announce the arrival of the Stance Women's Socks Summer-Autumn 2018 Collection at Yakwax!

Choose from a wide array of women's socks from this drop to suit your personal style and preference. Shop for a few pairs for this season and onward, so you'll have fresh stock for wearing at work, at the gym and anywhere!
Browse below for our top five picks from this Stance womens socks collection
If you want something colourful, comfy and light to add to your office or casual wear, the new Stance ladies Spacer Super Invisible Socks - Red are perfect for your casual shoes. Wear them with sneakers, loafers and other casual footwear if you like the 'no socks' look.

We're loving the new Stance Women's Classic Lowrider Socks - Purple for their colour and design. These socks will work well with your athletic/gym shoes and they provide cushion and comfort to your feet.

If you want to stick with the classics, the new Stance Women's Classic Uncommon Crew Socks - Grey are a great option. Protect your feet while at the gym or running at the field with these comfy socks.

Athletic socks don't have to be too dull or simple. The new Stance Women's Palm Tab Socks - Purple are cool and stylish as they are comfortable and innovative with features that provide your feet cushion and keep odour and moisture away.

For ladies who love wearing booties or ankle boots, the new Stance Women's Buzzchiller Boot Socks - Yellow will complement your favourite footwear. If you love interesting, quirky socks that offer comfort and light cushion, this is the perfect pair to wear!

Today's socks for women offer innovative features to ensure comfort and protection to the feet. The Stance Women's Socks Summer-Autumn 2018 Collection has a great selection from athletic to casual socks with all the features you're looking for. Make sure to shop a pair or more here at Yakwax! All with FREE UK delivery.