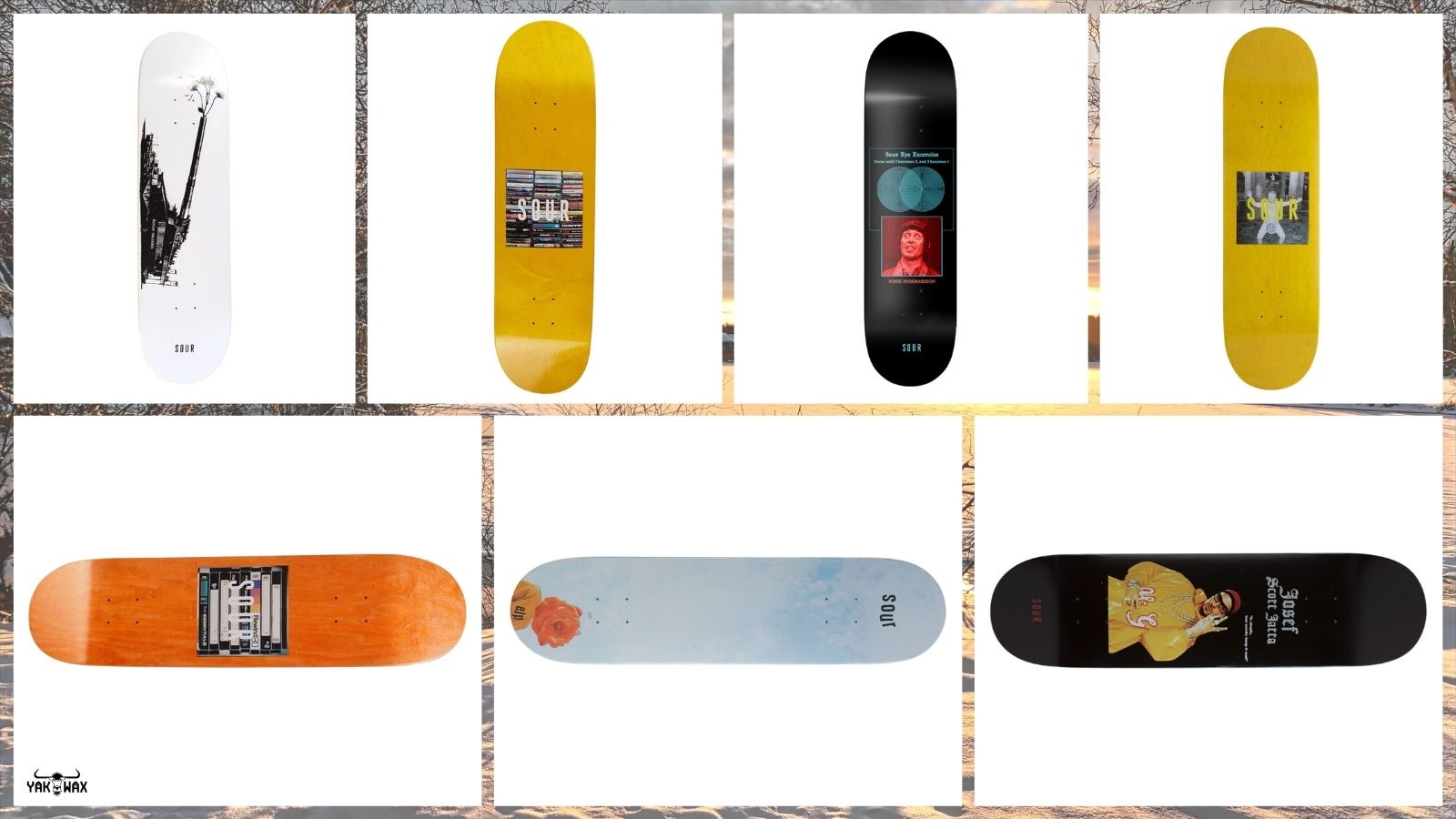 The new year calls for new skating gear, parts and/or accessories; and since we're still experiencing the winter months, it's a great time to invest on new decks for this year's shredding adventures.

If you're needing a skate deck right now, it's easy to find a standard deck that will fit your riding style. But if you're like many other shredders who are looking for stylish, colourful and quirky decks, many of today's brands provide a great selection that will fit all sorts of riders' needs and preferences. One such brand that produces funny, quirky and stylish skate decks is Sour. The company is also known for their clean designs and themes.

This is why we are stoked to announce the arrival of the Sour Skate Decks Winter 2020-2021 Drop here at the Yakwax store! Choose among the awesome designs in this collection before you head out to shred.
Browse below for our top five picks of Sour skateboard decks from this delivery
If you love vinyl and a simplistic colour scheme on your board, the new Sour Vinyls Skateboard Deck (Woodgrain, 8.25") is the best option. Made with 7-ply maple wood, this deck is perfect for both newbie and experienced skaters.
If you need a deck with ample pop and durability, the new Sour Albert Nyberg Elmo Savings Skateboard Deck (Yellow, 8.25") is the right option for you. This colourful and quirky skate deck is an eye-catching ride you will enjoy for a long time.
For fans of Swedish pro skater Josef Scott Jatta, the rad Sour Josef Two Words Skate Deck (Black, 8.5") is the best option. This pro model deck offers low concave for a stable ride that both newbie and experienced riders appreciate.
Another pro model option with interesting and colourful theme is the Sour Koffe Sun Poetry Skate Deck (8.25"). This is the perfect deck for all Koffe Hallgren fans out there who enjoy shredding the parks, pools and streets with an eye-catching ride.
For a minimalistic deck, the Sour EJP Louisa Skate Deck (White, 8.25") is the ideal option. Made with standard 7-ply maple wood, this deck provides all the much needed pop for your type of riding style.

There's plenty of options when it comes to skate decks. But it's always your preference and the brand that fits your riding necessities that will have a huge impact on the way you skate.

If you need a new deck this time, we highly suggest that look into the Sour Skate Decks Winter 2020-2021 Drop because you might find what you're looking for. All with FREE UK delivery when you order here at Yakwax.