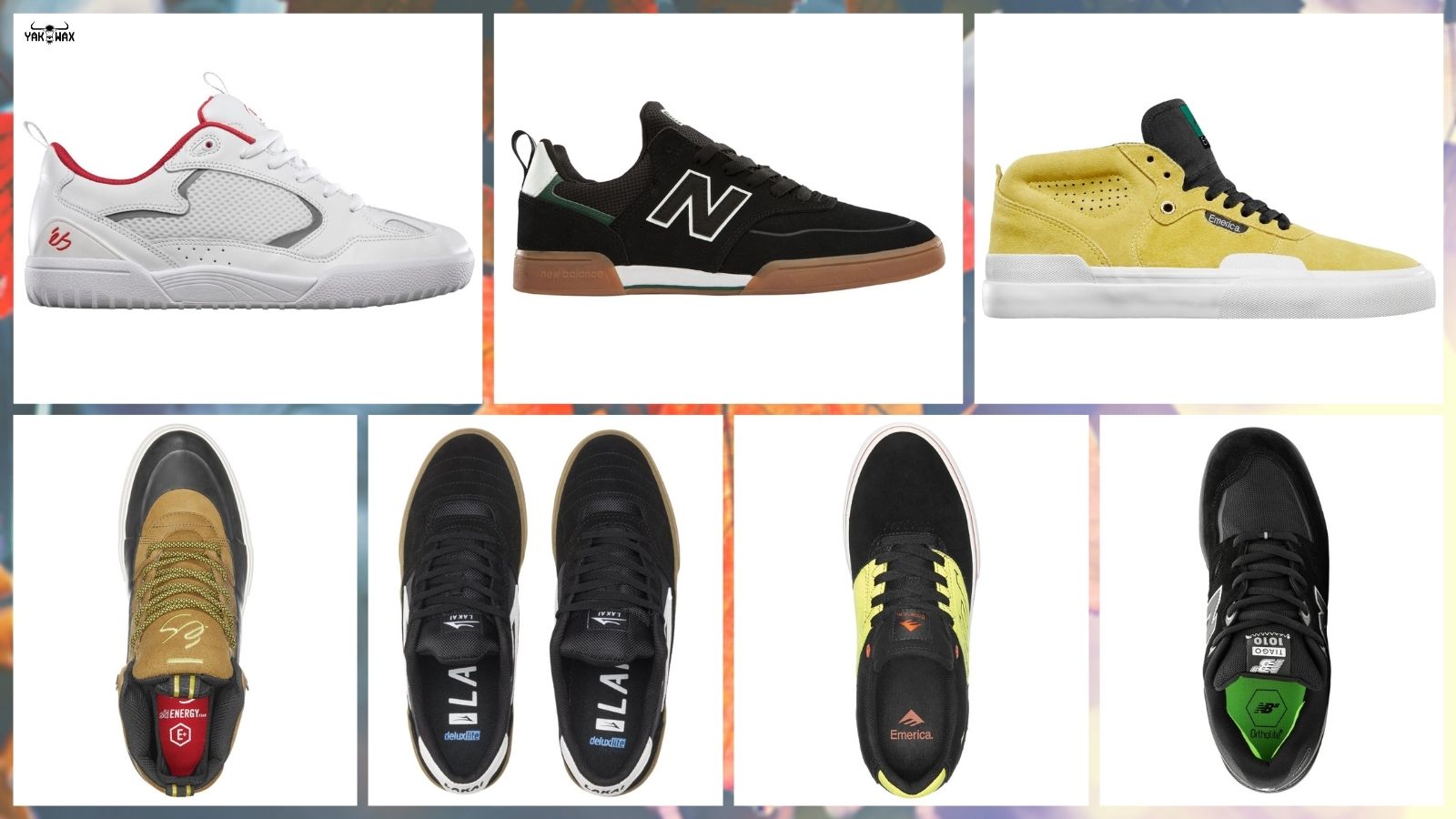 Fall season is here and shredding for long hours will be much more cooler and enjoyable. Usually, by the turn of the seasons, many shredders start showing up each with a new pair of skate shoes that need breaking-in.

Skate shoes are definitely a priority if you love skating. The design and engineering behind them are essential components that ensure safe skating. Aside from their cool outer designs, colour schemes and materials, skate footwear are more than meets the eye, so to speak. Branded ones are typically high-performing, so the skater can focus mainly on riding.

This is why we are super stoked to announce that the Skate Shoes Fall 2020 Drop is now here at Yakwax! With a great selection of men's skate shoes from some of the world's top brands such eS, Emerica, Lakai and New Balance to choose from, you're sure to get only the best skate footwear whichever you pick from this latest drop.
Browse below for our top picks from this skate shoes delivery
The rad Emerica Pillar Mid Top Skate Shoe (Yellow) is not just made for style. It is definitely made for skating - made with durable and flexible materials, and engineered to provide all the benefits of a great skate shoe.
If you need a superb pair of footwear for skating, the New Balance Numeric NM288S Sport Skate Shoes (Black/Green) provide excellent impact absorption and proper cushioning. If you are a high-performance skater, this is the perfect pair of shoes for you.
More than just a cool and stylish pair of footwear, the Emerica The Low Vulc Skate Shoes (Black/Green) provide great board feel to the rider. Shred away in style and comfort with these awesome skate shoes and all its functionality and benefits.
If you love black skate shoes that ooze with style and function, the new Lakai Carroll Skate Shoes (Black/White, Suede) are the perfect option for fall shredding. These shoes are designed to support your feet and provide great board feel.
When you need a pair of skate footwear that will let you shred until the winter months, the new eS Accel Explorer Winter Boot (Brown) is the perfect choice. These boots are designed to protect and provide comfort to the feet, while also being water-proof and non-slip.


If you've been meaning to invest on quality skate shoes, make sure to check the Skate Shoes Fall 2020 Drop here at the Yakwax store. Superb brands await you, so don't miss out before planning your fall shredding. All with FREE UK delivery when you order today!