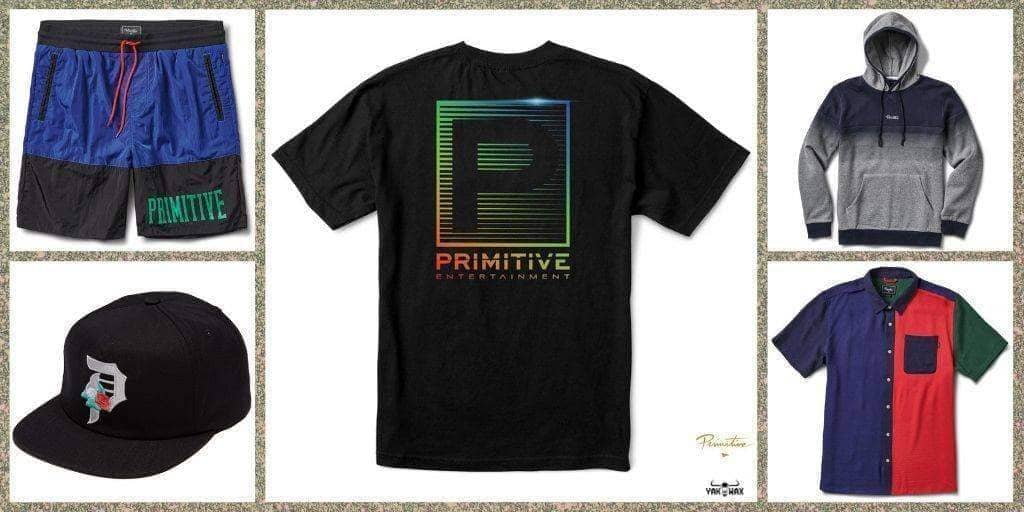 Skaters who are down to shred and live the skater's lifestyle will always find ways to upgrade their skill and personal style. It is quite normal to find shredders who stick with only one or two brands for all of their skateboarding needs - from skateboard to hardware, accessories and clothing.

One of the most iconic brands that truly embodies skateboarding in all aspects is Primitive. For a skating fan, this is one of the ultimate brands out there that were formed by skaters for skaters. And of course, it is founded by X Games champ and professional skateboarder Paul Rodriguez which makes Primitive a much sought-after brand.

This is why we are stoked to announce the arrival of the Primitive Spring 2019 clothing collection right here at the Yakwax store! Choose from a rad selection of t-shirts, hoodies and caps for your springtime shredding.
Below is our top five favourites from this Primitive apparel delivery
Black t-shirts don't have to be plain and boring. With the cool Primitive Entertainment T-shirt (Black) it's easier and cooler to wear a stylised black tee with your favourite jeans or pants.

Wearing this cool Primitive Pacer Fade Hood (Midnight) is the most effortless way to keep you warm, comfortable and stylish on a nippy afternoon shred or while hanging out with your mates.

If you love a black outfit from head to toe, the Primitive Dos Flores Unstructured Cap (Black) has just a touch of colour to make it stand out. Wear it while shredding, running errands and other activities under a warm spring day.

This Primitive Nuevo Script T-shirt (White) is as classy as you can get with its simple coloured branding. This is a cool white tee you need on a warm sunny day, whether for shredding or chilling with your friends.

Staying warm and comfortable while shredding in the cool spring mornings/afternoons is easier with the new Primitive Washed Pique Pullover (Black). Also, if you don't like too much colour or print on a hoodie, this pullover is the perfect option for you.

If you need new skate apparel and accessories, the Primitive Spring 2019 collection covers all your style needs. So, update your spring shredding getup with any of the items from this collection. All with FREE UK delivery when you shop at Yakwax!