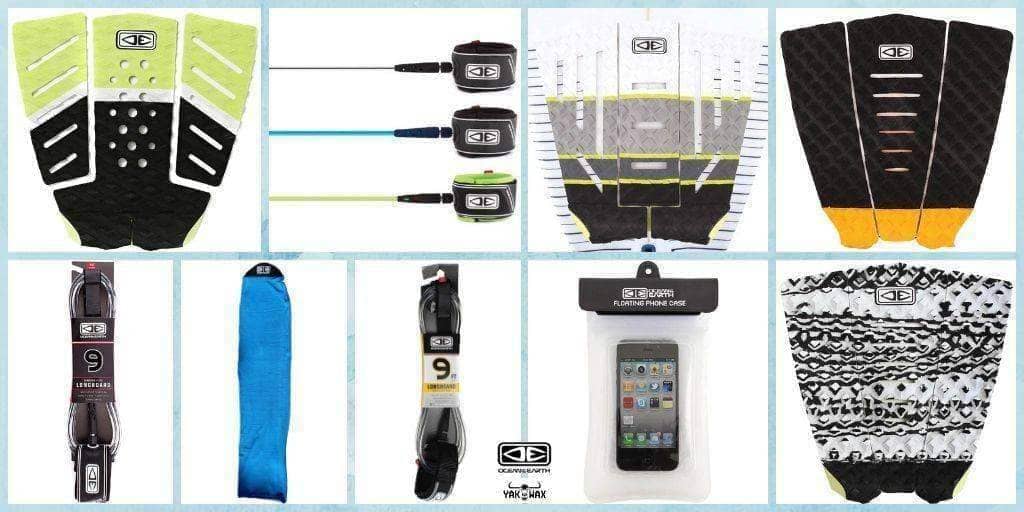 The season is definitely changing and as the last remaining months draw near, many surfers consider updating their gear and accessories for colder waters. While temperatures drop, there's no reason to stop surfing especially for more experienced riders and professionals.

Choosing durable surf accessories is one sure way to keep surfing safe and enjoyable. Plenty of surf brands offer high-quality leashes, deck grips and other accessories to ensure surfers are getting the most of their time in and out of the water.

One such brand that's known for creating the "World's Strongest Leash" and top-notch surf accessories is Ocean and Earth. They have provided the world with amazing supply of leashes with their own innovative approach and design to ensure surfers are well-equipped in the water.

This is why we are so stoked to announce the arrival of the Ocean and Earth Fall 2018 surf accessories here at the Yakwax store! Grab the latest surf essentials including leashes, board socks, tail pads and others before you head out for another surfing adventure.
Here's our top five picks to give you a glimpse of this Ocean & Earth collection
Before heading out to your favourite longboarding destination, make sure you have the new Ocean & Earth Longboard Regular Ankle 9ft Surfboard Leash. This is the perfect leash for tackling strong waves and for keeping your board within reach.

Keep your longboard away from nicks and bumps at home with the Ocean and Earth 7'6" Longboard Stretch Cover. Use it as protection before storing your board inside a board bag when travelling.

Make sure to stick on an Ocean and Earth Simple Jack Tail Pad Surfboard Deck Grip in White Marble onto your board before riding the waves this season. Made with high-quality EVA foam and strong adhesive, this tail pad will let you ride for a long time.

When you can't leave your phone on shore, the new Ocean and Earth Floating Phone Case is what you need to keep it dry and protected. For anyone who loves water sports and can't part ways with their mobile phones, this floating case is the ideal solution.

When it's time to replace your old tail pad, the new Ocean and Earth Simple Jack Tail Pad Surfboard Deck Grip in Orange is the perfect choice. Strong, high-quality and reliable, so you can use it and keep it stuck on your board for longer.

Surfing should always be fun and less worrisome any season. You should always be prepared and well-equipped before hitting the waves. The Ocean and Earth Fall 2018 surf accessories collection has everything you need for this season's surf adventure.

Order yours today at Yakwax and enjoy our FREE UK delivery!