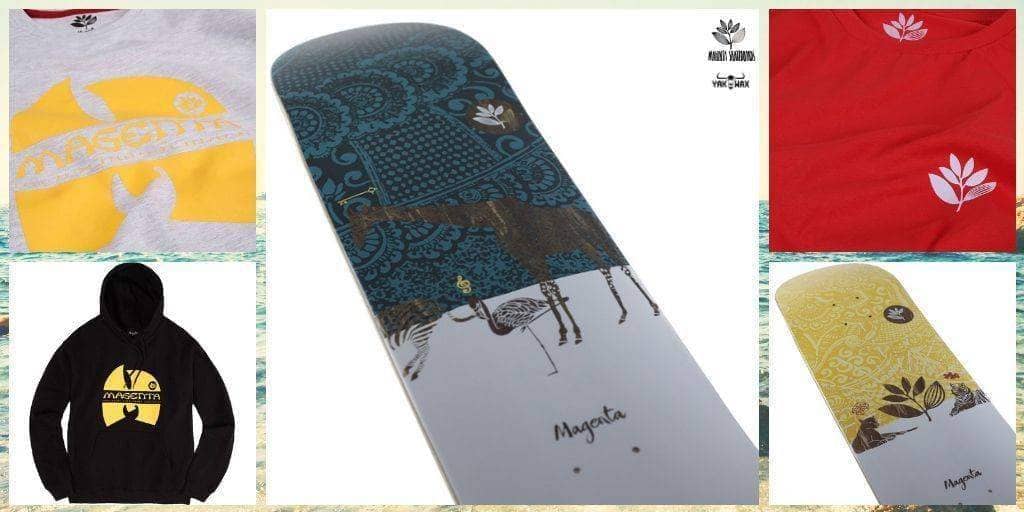 Summer skate style is often comfortable and effortless, and many skaters choose this route whenever they can because it reflects their personality and approach to fashion. When it comes to designs and colour schemes, it's no longer difficult to find brands that offer tasteful and clean options that are quite different and unique.

One of them is the French skate brand Magenta. The company has brought a different style and design scheme to the skateboarding world with their artfully and tastefully designed decks and clothing that cannot be found anywhere else.

This is why we are stoked to announce the arrival of the Magenta Summer 2019 collection at the Yakwax store! Choose from the skate decks, tees and sweatshirts in this latest drop to complete your cool summertime skate getup.
Check below our top five picks from this Magenta summer collection:
If you need a basic black tee with an impact, the new Magenta Wugenta T-Shirt (Black) is the perfect option. Black and yellow are great colour combinations on this 100% cotton t-shirt and it's a good statement skate top you can wear while shredding or hanging out.

Soy Pandy's designs are absolutely stunning on Magenta skate decks and this Magenta Ceremony Series Rhino Skate Deck (8.4", Green) is certainly a must-have this season. If you love medium concave decks with topnotch quality, this is the deck to shred on.

When you need a tee that's lightweight and bright for summer shredding, the Magenta Classic Plant T-Shirt (Red) is the best option. This blazing red logo t-shirt makes a bold, but laid-back top for this season.

The slightly bold, but still subtle impact of this new Magenta Wugenta Crewneck Sweater (Heather Grey) implies a comfortable and cool design aesthetic that both skaters and non-skaters will appreciate. Quite lightweight and airy, this sweater is a must-have for those nippy early morning and late afternoon shreds.

Another artistically designed deck in this drop is the Magenta Ceremony Series Snake Skate Deck (8.0", Orange) also designed by Soy Pandy. If you want a more vibrant deck with artful design, this is the ideal choice to ride on.

Magenta will always be synonymous with artful, tasteful and thoughtful designs on all of the skate products they put out. Sometimes we find customers quite challenged on whether to keep the items (usually decks) as art or ride/wear them outdoors. Whatever it is that you want to do with any of the items of the Magenta Summer 2019 collection, the best part is always the enjoyment of having one for the design and appeal. So, order yours right here at Yakwax before they run out - all with our superb FREE UK delivery!