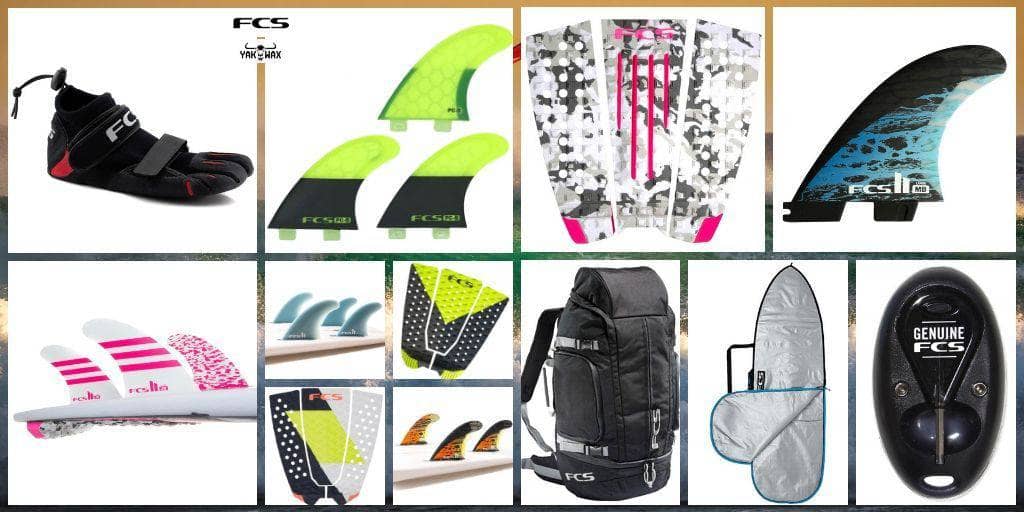 When it's time to update your surfboard gear and accessories, one of the top brands that resonate is FCS. They are known for being the game-changer in the surfing world with the introduction of the versatile FCS fin system which allows surfers to change their fins as needed, as well as the availability of fin template and the easy removal of fins which make travelling easier and hassle-free.

FCS, the company, knows exactly what travelling surfers require in terms of their routines and performance on the water. Their fins are the most widely-used across the globe, but their hardware and accessories are also quite popular among amateurs and professionals alike.

This is why we are super stoked to announce the FCS Surf Accessories January 2019 drop featuring a wide selection of surf gear including fins, tail pads/grips and board bags.
Browse below for our favourite picks from this drop of FCS Fins and surf accessories
The FCS II MB PC Carbom Tri Retail Fins in Orange (Small) are ideal for surfers who love speed, tight turns and snaps. Quite a reliable set of pro model fins with Matt Biolo's signature template style.

If you love warm water surfing and reef explorations, the FCS SP2 Reef Booties in Red will make your experience more enjoyable. These booties are built for high-performance and comfort.

Whether you love trekking, hiking, surfing adventures or other outdoor activities, the FCS Trekker Backpack in Black is a high-capacity backpack ideal for all sorts of adventure. Ergonomically designed with lots of compartments, this backpack is ideal for sports enthusiasts, travellers, mountaineers, hikers and outdoor adventurers.

The FCS T-3 Cobolt Camo Surfboard Tail Pad is made to perform and deliver the much-needed grip. Designed with high tail-kick, drop arch bar and ultra-thin construction for better feel and grip underneath your feet.

The FCS Fin Key Holder Keyring is a great addition to your roster of FCS surf accessories. If you use FCS fins on your board, you will need this keyring to hold your fin key, screws and keys.

If you're an avid surfer, for sure you are familiar with the high-performing surf products by FCS. This is the right time to upgrade and update your surfing gear by getting the coolest items from the FCS surf products 2019 drop. Available here at Yakwax with FREE UK delivery!