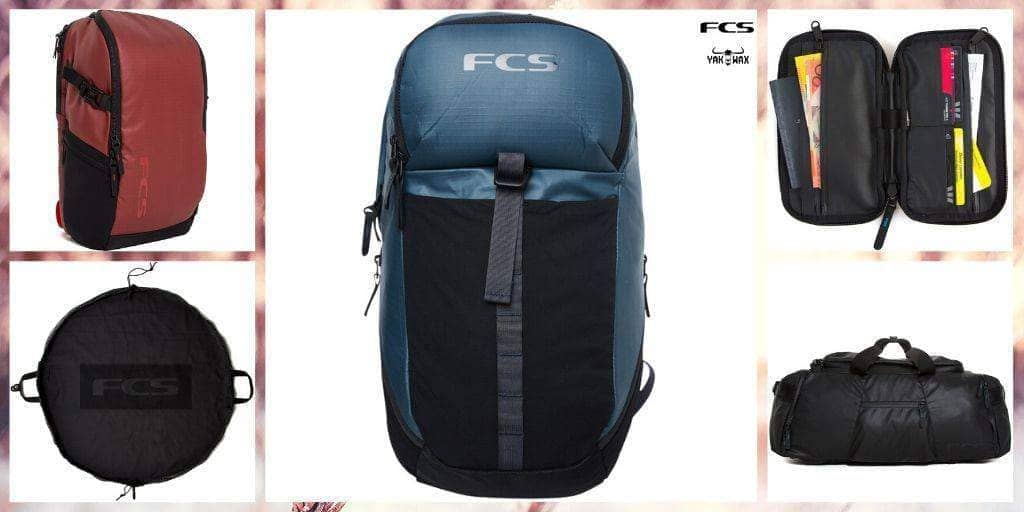 When you can't do anything but heed to the call of the outdoors, whether your favourite surf spot or an overseas adventure, it is essential to have bags and accessories within your reach. These items will always be useful especially when you travel long distances for surfing and other adventures.

With frequent travels and visits to various surf locations, you will need a top-notch brand that offers a great deal of surf items, accessories and bags. Among today's most prominent names in the industry is FCS. Although FCS is known for their fins, they also make sure that all of your surfing needs are satisfied.

This is why we are stoked to announce the arrival of the FCS Bags Fall and Winter 2019 collection here at the Yakwax store! Choose from an array of backpacks, bags and travel accessories to suit your needs.
A few of our favourites from this FCS Bags and luggage delivery
When you need one item to keep your passport, money, credit cards, IDs and boarding pass, the FCS Travel Wallet (Black) provides ample space and security. This wallet will look good for a long time, thanks to its water-resistant and anti-abrasion qualities.
The FCS Stash Backpack (Steel, One Size) is an ideal bag for anyone who travels and loves organisation. This backpack has plenty of room and compartments inside and out, padded straps and back support.
Whether you use it as a surf tool bag, first aid kit, or organiser, the FCS Accessory Kit (Black) will hold all of your stuff in place. Take it anywhere you travel to ensure you have all the surf tools and spares you need on this quest.
The new FCS Duffel Bag (Black, Medium) is truly made for lengthy surf trips. It has ample compartments to store everything you need for a surf adventure, and is quite durable and designed to ensure comfortable carry-on.

Short trips to one of your favourite surf spots require a smaller capacity bag, which makes the FCS Strike Backpack (Black, One Size) ideal to carry only what's needed on such trips. This backpack has plenty of storage space for both big and small items you take on a short surf trip.

Choosing the right bag and accessories for a surfing adventure is key to keep all your stuff safe and secure. Invest on a bag that can keep up with your lifestyle by first browsing our FCS Bags Fall & Winter 2019 drop. All with FREE UK delivery when you order here at Yakwax!