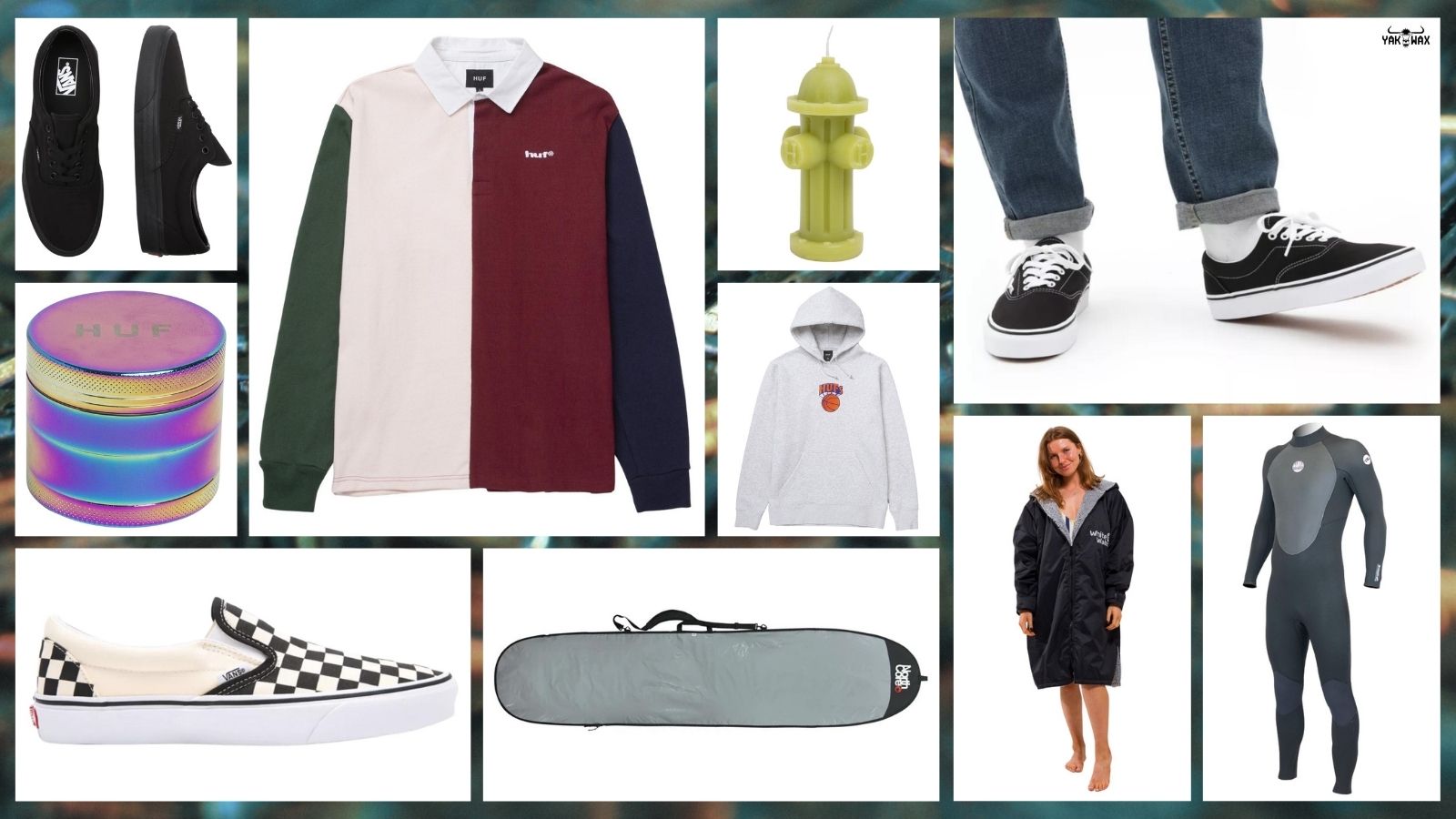 Planning for your next outdoor adventure requires selecting what to wear from head to toe. Sports and outdoor activities have a different set of clothing, footwear and accessories that provide extra protection and comfort, in contrast to regular, everyday getup. The selections per sports and outdoors categories are vast, but it's easier to choose with popular brands in mind.
For skaters, whether you're a newbie or an up and coming professional, often the choices of clothing as similar among ages. Tees, trousers and skate shoes are the top 3 most popular items on the list, with the addition of complementary outerwear, hats/caps, beanies and socks for added comfort especially during he cold weather. Among the top brands that truly ring a bell among skaters and street style aficionados are Huf and Vans. With these names on your top list, you won't run out of choices when it's time to shop, no matter the season or trend.
For surfers, the options are also endless. But it's always the go-to brands that resonate most to riders, so it's an easier task to find the ideal wetsuit, gear and accessories to complete their surf adventure. If you need surfing and swimming items to take on your next adventure, Northcore surf accessories and White Water changing robes are a must. For serious riders needing proper attire, Alder wetsuits are among the best options today.
No need to look elsewhere! We have the latest pieces you might need right now via the Apparel, Accessories, Shoes and Surf Items from Various Brands December 2021 Drop. With premium selection of clothing, accessories, and footwear from the brands mentioned earlier, you're ensured to have an excellent time outdoors.
Browse below for our top five picks from the Apparel, Accessories, Shoes and Surf Items from Various Brands December 2021 delivery
The White Water Adults Hard Shell Poncho Change Robe (Black/Grey) is perfect for both cold and warm season surf adventure. It's an essential item in your travel backpack - to protect and keep you warm and dry, while changing to and from your wetsuit.
Who can say no to a classically designed pair of Vans Men's Classic Slip-On Skate Shoes (Checkerboard/Black & White)? These skate shoes are definitely made for shredding in style.
The cute and cool Huf Hydrant Candle (Huf Green) is the perfect gift for anyone who loves the brand and the skate/surf lifestyle. You won't find any candle like this in the market, for sure.
When you love the water and need proper wetsuit to achieve optimal flexibility, the Alder Women's Stealth 5/4/3mm Back Zip Winter Wetsuit (Black) is the perfect choice. This winter wetsuit for women is ideal for multiple, high-activity watersports to allow you to move about with ease, comfort and warmth.
The Northcore 8' New Addiction Mini-Mal Surfboard Bag (SIlver) is the ideal board bag for surfers who need an everyday carrier for their gear. This bag also allows you to keep and carry your board without removing the fins after a shredding session.
If you need something new for this year's skate or surf adventures, we have plenty of products just for you from the Apparel, Accessories, Shoes and Surf Items from Various Brands December 2021 Drop. Get yours today here at Yakwax with FREE UK delivery!