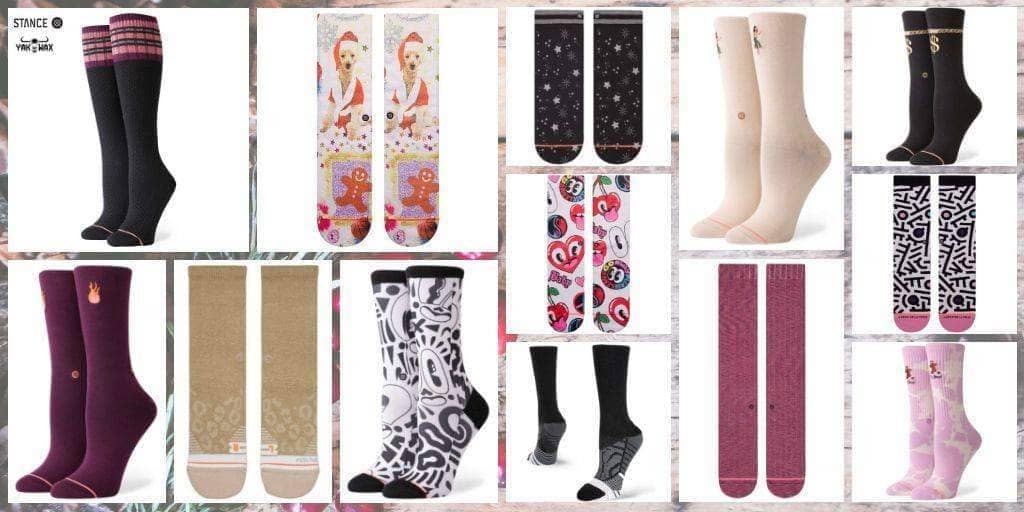 Women's socks come in a myriad of choices from design to colour scheme, to type or style, and functionality. Casual and sport socks for women will always be the top options among many female athletes, office workers, students and anyone with a busy and active lifestyle.

With today's options in women's socks, it makes it more fun to shop for yourself and for a friend or family especially during the holidays and their birthdays. Socks are no longer boring to give away and to shop for thanks to brands like Stance that truly understand the need for more comfortable, fun, edgy and innovative socks specifically designed for female wearers.

We are stoked to announce the arrival of the Stance Women's Socks Holiday 2018 collection here at the Yakwax store! Choose from a wide selection of colours, designs and styles that will complement your favourite getup and footwear.
Check out our top five favourites from this Stance Women's sock drop
If you love wearing boots, the Stance Women's Molten Socks (Black) are perfect for keeping your feet comfy and warm. Made with quality cotton blend, these socks are also designed to prevent toe abrasion and provide cushion to your feet.

One of the best colour combinations on a pair of socks is on the Stance Women's Too Good Socks (Pink). Grey and pink colour scheme is a classic and these socks certainly exude a cool and girly appeal.

The Stance Women's Shine Time Socks (Multi) are truly one of a kind with the designs and construction that provide your feet comfort and style. These socks are perfect for your trainers, sneakers, booties and casual shoes.

If you love sports and going to the gym, the Stance Women's Shiny Gold Training Crew Socks (Gold) are great additions to your sports socks collection. Keep your feet cool, moisture-free and comfortable with these superb crew socks.

The Stance Women's Aaron De La Cruz Socks (White) exude fun with a touch of artsy design. These socks are not just stylish as they are certainly made for cushioning and providing comfort to your feet.

The Stance Women's Socks Holiday 2018 collection is where the coolest and most stylish women's socks are at! And you can get yours right here at Yakwax with our incredible FREE UK delivery!