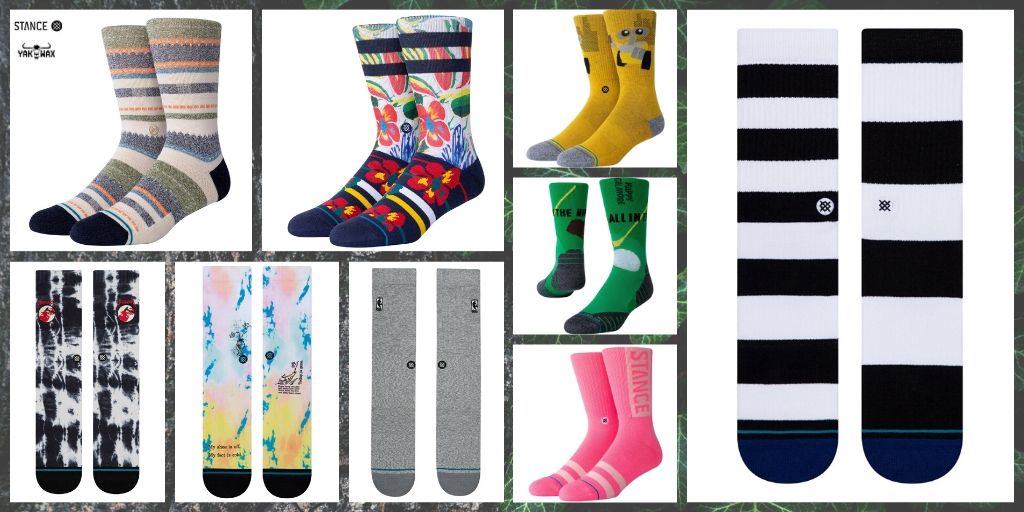 When it comes to sports and outdoor activities, the feet are commonly the ones that need more protection and support. No matter the activity, may it be a type of extreme sport or simply working out, the feet will need cushion to protect it from injuries and to provide comfort.

Combining ingenuity in material blends and design, a pair of men's socks from a reputable brand will always stand out from the rest. This doesn't mean the socks are meant only for sports lovers and outdoorsy guys, but most certainly for anyone who appreciates a comfortable and stylish pair of socks.

One brand truly stands out when talking about stylishly cool and innovative socks is Stance. For so many years in business, the brand knows what sports enthusiasts and active men require. Not to mention the street wear fashionistas and socks fans who primarily go for the appeal of Stance socks.

We cannot wait for your to see the Stance Men's Crew Length Socks Spring 2020 Collection that has landed here at Yakwax! With so many designs and colours to choose from, this collection has indeed pulled all the stops.
Check below these picks from this Stance socks drop
The new Stance Run Crew ST Socks (Black) is definitely made for sports and outdoor activities. This pair of socks provide arch support and comfort at all the right areas, so you can keep moving without worries.
If you love Adam Sandler moviers, you will certainly love the Stance x Happy Gilmore Happy Happy Socks (Multicolour). This quirky pair of socks will make a great statement piece when you wear them exposed, while enjoying your favourite activities.
For Nirvana fans, these cool Stance x Nirvana Face Socks (Black) will definitely make you stand out from the crowd. Wear them with your favourite spring-summer getup and footwear for a rad warm-weather look!
When you need super comfortable, soft socks, the Stance Tucked In Butter Blend Socks (Navy) are must-haves. These socks are technologically designed to provide all needed support and comfort for the wearer.
The clean and classic look of the Stance NBA Logoman ST Socks (White) sets a more professional and athletic appeal. Whether you shred, go to the office, or simply enjoy wearing simple classic pair of socks, this is the perfect pair to add to your collection.

Start collecting new pairs of socks for your outdoor activities and favourite sports. The Stance Men's Crew Length Socks Spring 2020 Collection has all sorts of designs, colours and appeal that suit almost any type of wearer. Get yours here at Yakwax with FREE UK delivery!