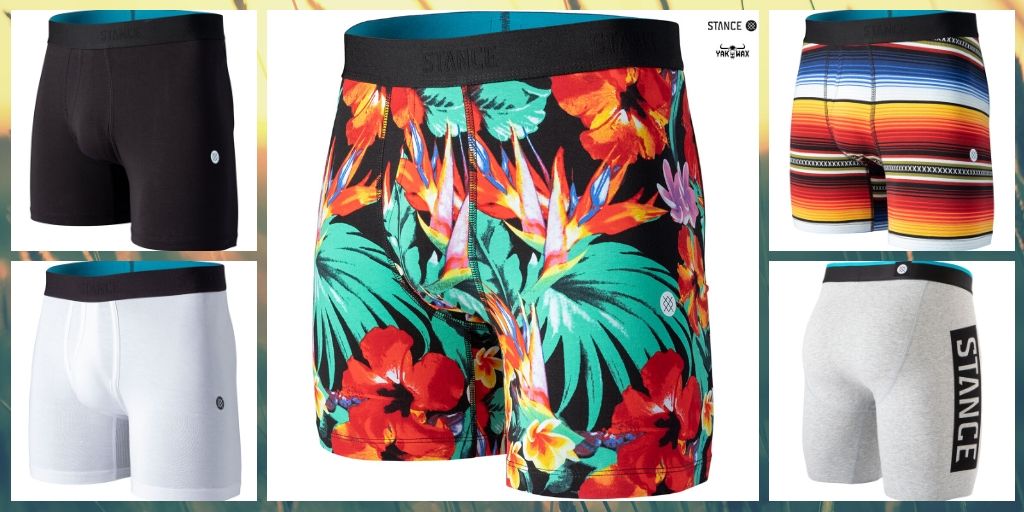 Men's underwear is an essential part of everyday getup, and it has become more indispensable when you're active in sports and outdoor activities. There's a huge difference in wearing comfortable and suitable underwear when you're super active, compared to wearing cheap and generic versions that could even be harsh on the skin.

Many brands have come up with underwear that truly provides utmost comfort and flexibility to the wearer. No matter the extent of outdoor activity and movement, these innovative undergarments will put up with anything without compromising comfort.

One such brand that specialises in innovative, stylish and extremely comfortable men's underwear is Stance. The brand has been lauded for their proprietary blend of materials to achieve the desired comfort and lightweight qualities of their boxers for men. From plain and block coloured types, to the coolest and most colourful design schemes, there's a pair of boxers for every guy who loves the outdoors - whether he surfs, skates or any other sport and outdoor activity you can think of.

This is why we are super stoked to announce the arrival of the Stance Men's Boxers Spring 2020 collection here at the Yakwax store! Choose from plain ones and with colourful designs to match your personal style.
Here's some of our favourites from this Stance boxers delivery
When you need just the right amount of comfort and flexibility, the Stance Curren ST 6in Boxer Brief (Red) is one option you shouldn't miss! This stylish and colourful men's boxers will keep you moving without worries and with ample comfort.
The Stance Standard ST 6in Boxer Brief (Heather Grey) is perfect for active guys who always move around while out and about. Get utmost support, comfort and breathability with this pair of boxers.
If you prefer black underwear, the new Stance Standard ST 6in Boxer Brief (Black) is the perfect option. Get ample support from these comfortable and lightweight boxers no matter the activity you're engaged in.
White underwear never goes out of style and many prefer it for the clean and fresh look. The Stance Staple ST 6in Butter Blend Boxer Briefs (White) is a great example and more - with maximum support, breathability, flexibility and comfort to name a few of its features.
Innovative men's underwear may look simple, but the Stance Staple ST 6in Butter Blend Boxer Briefs (Heather Grey) is not your ordinary underwear! They provide comfort, breathability and enough support to let you move and enjoy your favourite activities without worries.

The Stance Men's Boxers Spring 2020 collection offers superb selection of underwear that's hard to beat. If you need to update your spring getup, make sure to include a few pairs of boxers to enjoy the activities ahead. Order yours right here at Yakwax with FREE UK delivery!