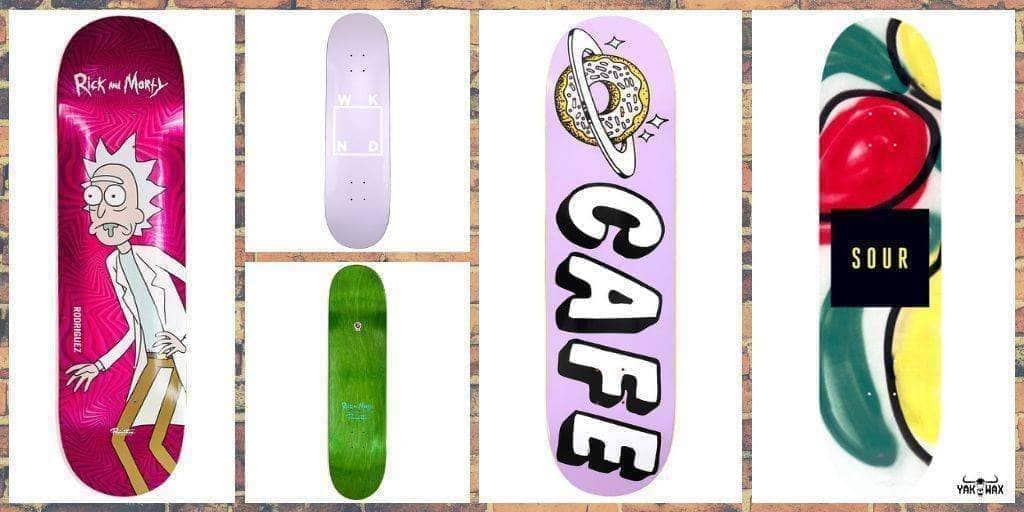 A durable skateboard deck is not difficult to find these days. Plenty of brands are innovating their approach and process to achieve the ideal skateboard.

Decks from numerous global brands typically use 7-ply maple wood to ensure durability and quality. Among the interesting elements on skate decks are the variety of colour schemes and designs that reflect the style of each brand. You may have encountered decks with original and collaborative graphics that range from minimalist, to cartoon type, to abstract art.

We are stoked to announce the arrival of Spring 2019 skate decks from some of the world's renowned brands including Primitive, Skateboard Cafe, Sour and WKND. This latest drop offers a variety of sizes, colours and graphics that appeal to both young and adult skaters.
Browse below for our top five favourites from this skate deck delivery
If you love skateboarding and donuts, the Skateboard Cafe Planet Donut Skateboard Deck (Lavender) is perfect for you. Add a bit of fun and personality to your shredding style with this deck.

The bold cartoon-style graphics of the new Primitive Rodriguez Rick Skateboard Deck 8.25" (White Yellow Red) will surely catch eyes. Shred the parks and streets with this pro model deck.

For those who stick with classic style and subtle coloured decks, the WKND Logo Board Skate Deck 8.25" (Lavender) is the perfect option. Quite durable and ideal for all skating levels.

The Sour Spray Skateboard Deck 8.0" (Orange Yellow) is perfect for those who love spray-paint art. This colourful deck is ideal for shredding at the parks and streets.

A simple design is always an ideal choice when it comes to skate decks and the new Skateboard Cafe Blues Skateboard Deck (Cream) is one example. This deck is durable and made for shredding the streets and parks.

When shopping for skateboard decks, the primary elements to consider are length/size, concave and material. It is essential to choose a durable deck that will fit your shredding style, so you can use it for many months. Our latest drop of skate decks for spring 2019 is the perfect combination of style and quality, so grab yours today. All with FREE UK delivery when you shop at Yakwax!