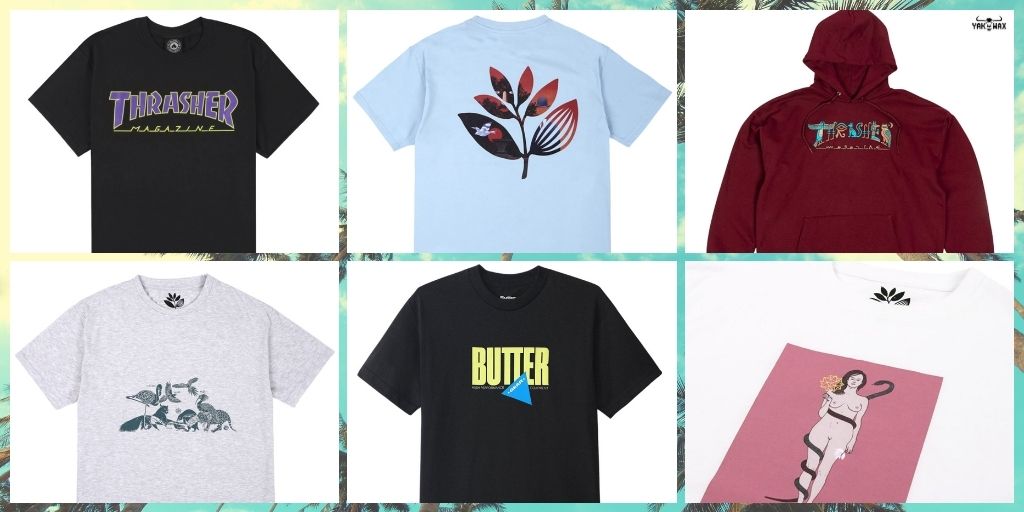 End the summer season with brand new skate tops to fully enjoy the change of season and weather. Although it's still warm and inviting outside - to either shred, go to the beach, or just hang out under the sun - this is a time when we are all transitioning from warm to chilly months.

The warm months may be going away so soon, but it's still a great time to shop and stock up on the usual skate tops that complement your style and getup. The most common pieces to go for are tees and hoodies that provide comfort and warmth especially during the transition months. Colourful graphic t-shirts will always be staples in every seasonal collection, so it's best to search for top-notch brands that truly resonate among avid skaters. Thrasher, Butter Goods and Magenta are just three of the most popular skate brands that truly understand the fashion sense of today's skaters.

We are super stoked to announce the arrival of the Skate Tops Summer 2020 Collection here at the Yakwax store! All these brands are available for the picking - choose among the graphically pleasing tops you can wear any season.
Some of our faves from this skateboard clothing brands delivery
If you need lightweight and airy top this season, the new Magenta Eve T-Shirt (White) is an ideal option especially during the warm days. Quite comfortable and airy, and perfect for long hours of shredding under the sun.
We're loving the graphic design on the new Thrasher Hieroglyphics T-Shirt (Navy Blue) for its uniqueness and style. This cool t-shirt is made with 100% cotton, so you can fully enjoy the outdoors with comfort.
If you love grey tops on a shredding day, the new Magenta Gathering T-Shirt (Ash) is the perfect option. Airy, lightweight and comfortable to wear, this graphic tee will go well with any of your favourite shorts and jeans.
Just like its t-shirt counterpart, the new Thrasher Hieroglyphics Hoodie (Maroon) will keep you stylish and warm as the month transitions into fall. Make sure to grab this hoodie before stocks run out, so you can shred away prepared for the colder months ahead.
When you need a new black top with interesting graphic design, the new Butter Goods Gear T-Shirt (Black) is the ideal choice. This t-shirt is made for the warmer days, so you can shred or hang-out with ease and style.


Enjoying the last days of summer should be as fun and easy, while staying stylish and comfortable at the same time. The rad Skate Tops Summer 2020 Collection has a great selection that will complement any of your favourite bottoms for skating, casual days and hanging out. Get yours now at Yakwax with FREE UK delivery!