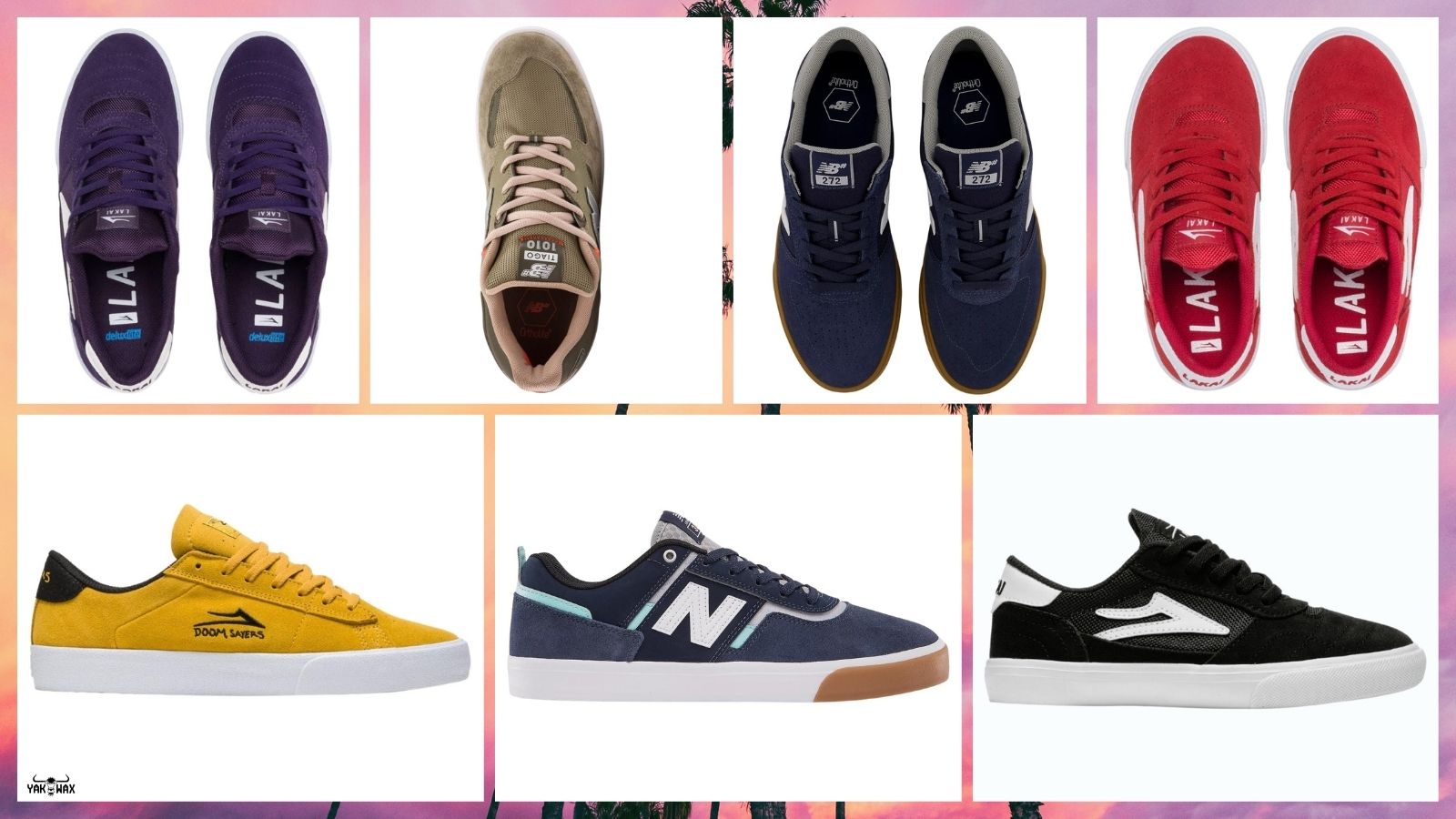 Springtime is almost here, and an awesome way to commence the season is to wear a new pair of rad skate shoes!
While you may be thinking that you still have a few good pairs of skate footwear, it's ideal to have a fresh pair ready for the hectic spring-summer shredding sessions. Spring is also the best time to find the coolest and those much-awaited skate shoes from from some of the world's notable brands.
Among the top brands we carry are Lakai and New Balance Numeric, which both offer superbly designed skate footwear for all ages. Lakai skate shoes and apparel is a well-renowned brand with over 2 decades of existence. It is a company established by pro skaters for skaters. While New Balance Numeric skate shoes are just under a decade in existence, the mother company, New Balance, is not new in the sports footwear industry.
With that said, we are super stoked to announce the arrival of the Lakai and New Balance Numeric Skate Shoes Spring 2022 Drop here at the Yakwax store! You will find some of the season's most amazing and colourful skate shoes for men and kids'/boys' skate shoes as well. So, don't miss out on this initial drop from two of the most sought-out skate footwear brands.
Browse below for our top picks from the Lakai and New Balance Numeric Skate Shoes Spring 2022 delivery
Lakai is known for designing skate shoes that offer outstanding board feel, and you'll find it while wearing the new Lakai Cambridge Men's Skate Shoes (Grape Suede). These shoes also provide flexibility and durability, with ample amount of style.
The New Balance Numeric NM1010 Tiago Lemos Skate Shoes (Grey/Yellow) are designed for performance and comfort. These pro model skate shoes are ideal for levelling up your shredding game!
Your kiddo will love the rad Lakai Cambridge Kids' Skate Shoes (Red Suede) for the style and comfort they provide. These red skate shoes are also designed for feet support and durability.
If you're tired of the usual black or white skate shoes you have, the New Balance Numeric NM272 Skate Shoes (Green/White) will bring in that fresh new look for your skating sessions. These shoes are all about comfort, feet support, breathability and flexibility.
For riders who love footwear with classic silhouettes with modern features, the Lakai Cambridge Men's Mid Skate Shoes (Cream/Navy Suede) are the best option. These mid-top skate shoes are designed for feet support, comfort and style.
If you need a grippy pair of skate shoes, the New Balance Numeric NM306 Jamie Foy Skate Shoes (Navy/White) will provide you with ample grip and flexibility. These pro model shoes are made for comfort and proper feet cushioning.
Don't wait 'til spring is around - go get a pair of these proper skate shoes from the Lakai and New Balance Numeric Skate Shoes Spring 2022 Drop to ensure your shredding sessions are not hampered. All with FREE UK delivery here at Yakwax!