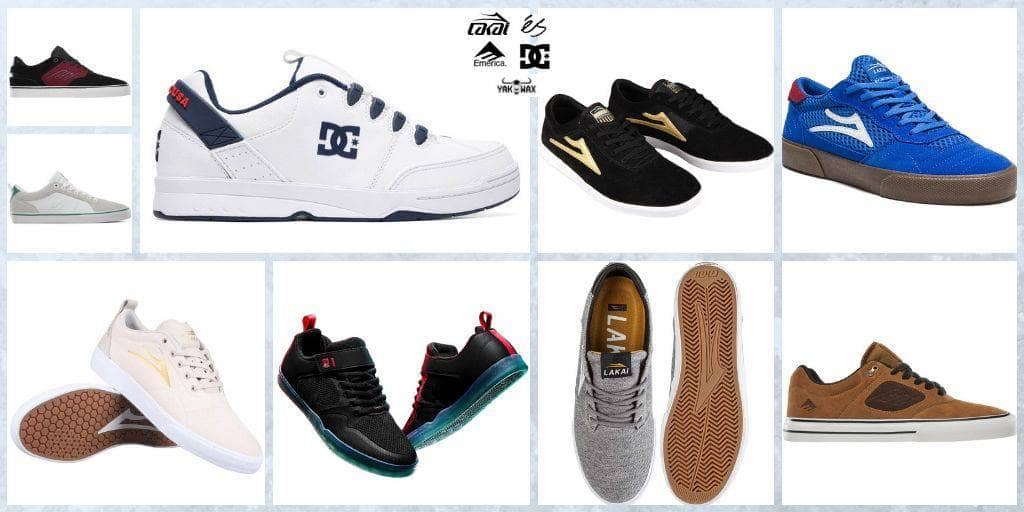 Skateboarders will always need specialised shoes that help them stay on their feet while shredding the streets and parks. Gone are the days (or decades, so to speak) of wearing just regular sneakers which do not have innovative soles available today. It is always about performance when wearing skate shoes, but it doesn't hurt if there's a dash of cool and style as well.

Today's skate shoes are often designed with the help of skateboarders' inputs. They are the ones wearing and experiencing the benefits of the technology and design behind them. Every brand and company that makes these shoes ensure that riders will experience comfort, safety and better board feel.

We are super stoked to announce the latest drop of Skate Shoes for Fall 2018 from some of the world's most prominent brands such as DC, Lakai, eS and Emerica. These brands are not only innovative and stylish, they are known specifically for producing the raddest skate shoes in the market.
Here's out top five favourites from this latest drop of Skate Shoes
This Lakai Cambridge x Jovontae Skate Shoes - Blue Gum Suede is an amazing collaboration that combines vintage skate shoes vibe and innovative features for high-performance, comfort, impact protection and style. Need we say more? These shoes are made for skating with style.

These stylish eS Square Three Skate Shoes - Green Gold are designed to provide superb board feel, flexibility and comfort. If you love two-toned shoes, these are among the coolest options this season.

These classic 90's style DC Syntax Skate Shoes - White/Navy will always have a space in many skateboarders' hearts and shoe racks. They may look classic, but these high-performance shoes provide premium features to ensure your feet are comfortable and protected.

These stylish Emerica Provost Slim Vulc Shoes - Black Brown Green may look like your favourite sneakers, but they are definitely made for skating. They provide comfort, cushion and style as you shred.

You may want to keep these cool eS Accel Slim Skate Shoes - Light Blue away from the eyes of your sister or girlfriend because they really are among the cutest skate shoes we've seen so far - colour-wise and overall appeal, for that matter. These shoes provide protection and comfort to your feet.

Before you even think of wearing those regular sneakers or if you have worn-out skate shoes, do consider getting a proper new pair for better and safe skating session. Our latest drop from some the world's leading skate shoe brands are appropriately designed to ensure your feet are comfortable and protected from impacts while you skate.

Order yours today at Yakwax and enjoy our amazing FREE UK delivery!