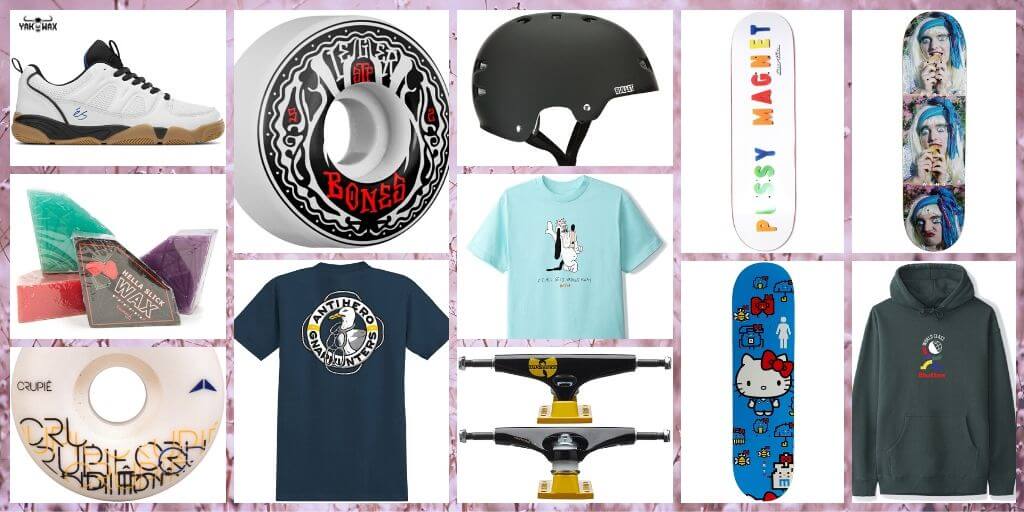 Getting ready for the 2020 skating sessions start with shopping for the necessary gear, accessories and clothing. But with the winter months still on-going, it's best to choose what's ideal for the cold weather and which items are great all year-round.

Skate clothing are quite versatile, so there's no need to fuss about them especially when you're shopping for yourself. However, many skaters will always go for top quality brands when it comes to their getup - from tops to jeans or trousers, and most importantly, skate shoes.

For skate hardware and accessories, today's brands provide a superb array of products made with high-quality materials that last years of shredding. So, basically, it should be as easier to find the ideal skateboard hardware, protective products, and accessories when there's an abundance of options out there.

This is why we are super stoked to announce that the Winter 2019/2020 Skate hardware, accessories and clothing drop is now available at Yakwax! From top brands and a huge variety of skate products for the winter, you won't run out of options for this season's skating adventures.
Browse below for our top five faves from this skate hardware delivery:
Keep your feet comfortable and supported while shredding with this cool pair of eS Silo Skate Shoes (White, Black, Gum). When it's time to chill and just hang out with your mates, these shoes work like cool footwear you'd match with any of your favourite laid-back getup.
If you ride a 8.12" to 8.38" board, these Thunder Kyle Walker T-Bird 148 Hollow Lights Skateboard Trucks (Pair, 148mm) are ideal for superb rides.
Don't forget to protect yourself especially when shredding in the cold, damp streets. The Bullet Adults Deluxe Skateboard Helmet (Matt Black, L/XL) is ideal for providing protection, comfort and ventilation when worn.

This cool-looking Diamond Supply Co. Hella Slick Skateboard Wax (Red, One Size) is a smooth-running wax that's easy and efficient to use. Get a trio to stock for the season's shredding sessions with your mates.

If you're thinking of replacing your good old deck, this cool WKND Collage Skate Deck (Red, 8.0") is a perfect option. This skate deck is made with quality maple wood, so you can skate your heart out this winter without wearing it down quickly.

Winter shredding should be fun and with a bit of protection from the elements, whilst also ensuring you're riding top-notch skateboard. This drop has all you need in one shopping for this season's riding and hanging out! All with FREE UK delivery when you order here at Yakwax!