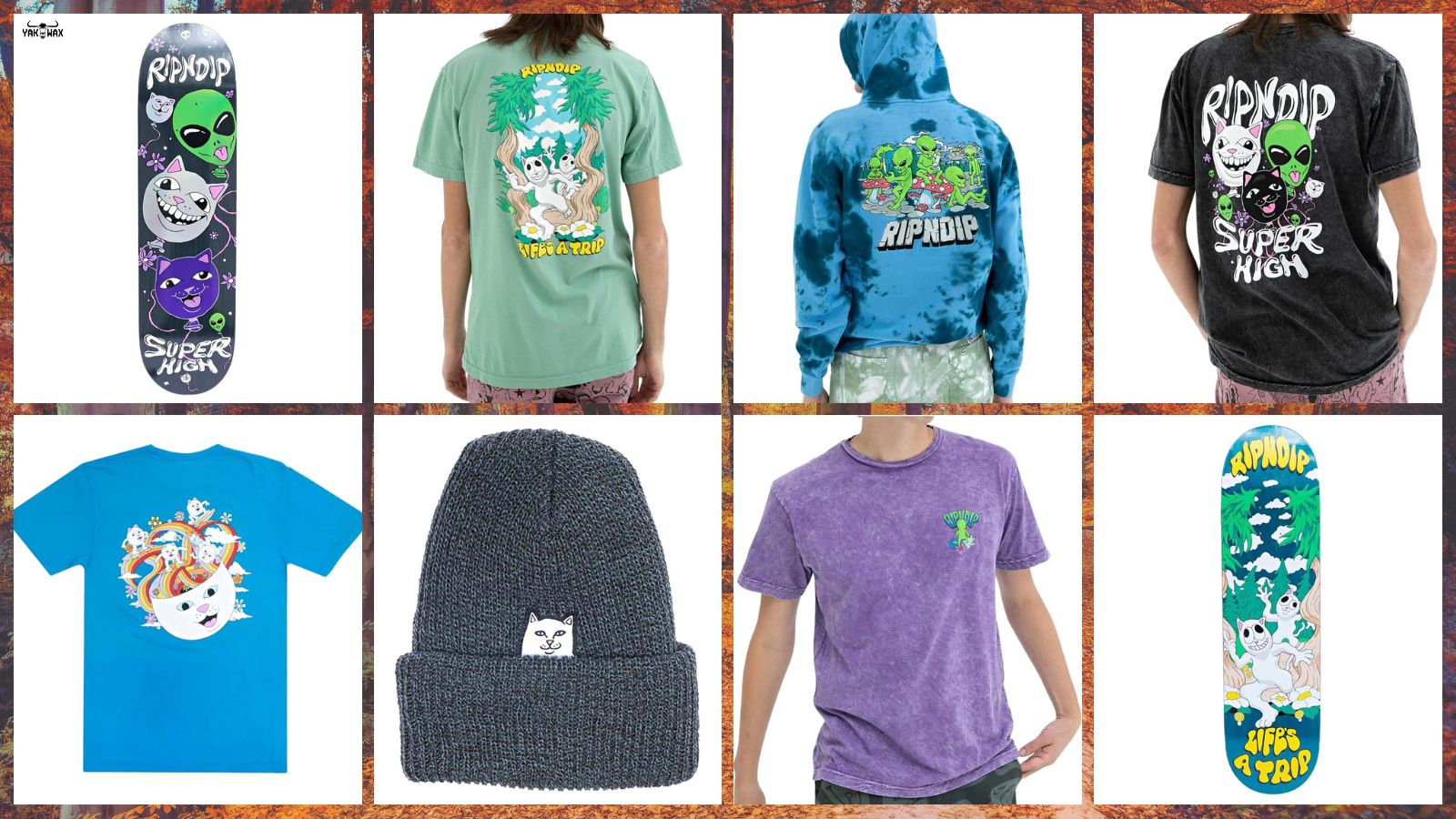 Skate clothing is often regarded as cooler and more stylish than normal attire. There's really nothing different in terms of the type of clothes riders wear versus non-riders. The main differences are usually the designs and colour schemes which you cannot easily find in most regular t-shirts and outerwear, for example. 
If you're the type of skater (or non-skater) who loves intriguingly unique attire and gear, there are skate brands known to produce such products that appeal to all ages. One of today's fun-loving and edgy brands is RipNDip. The company is known for their colourful and interesting design prints, colour choices and their super naughty mascot Lord Nermal, who appears on all of their products.
So, if you need something to wear and use that exudes fun and coolness, the RipNDip Fall 2022 drop has a great selection for you to check out - from skate decks to tees, to hoodies and beanies. You'll certainly find a great piece or two for fall shredding from this collection.
Browse below for our top five picks from the RipNDip Fall 2022 delivery
The eye-catching RipNDip The Unknown T-shirt (Purple Mineral Wash) is the perfect top this fall. The weather may be a bit chilly and sometimes gloomy, but this vibrant tee can beat all that while you're enjoying riding for hours.

Keeping it warm, stylish and comfortable is simple and easy with the rad RipNDip Adventure Club Hoodie (Alpine Green). This lightweight outerwear is perfect for those nippy afternoon rides, so don't leave home without it.
When it's time to replace your worn out deck, the RipNDip Life's A Trip Skateboard Dec 8.25" (Teal Blue) is the perfect option. This 7-ply maple deck has medium concave and quite poppy, and ideal for long hours of riding.
For alien fans and fun-loving riders, the RipNDip Space Gang Long Sleeve T-shirt (Charcoal) is a great addition to your fall shredding attire. You can wear it as it is or as light outerwear when the weather is too chilly to just wear a tee.
Protect your head from the chill by keeping it stylishly warm with this cool RipNDip Lord Nermal Patch Beanie (Navy, Lightning Wash). Made with 100% acrylic, this lightweight beanie is also fun and interesting to wear - thanks to Lord Nermal's usual gesture!
Enjoy the cooler fall weather while shredding for longer hours in effortless style! The RipNDip Fall 2022 drop makes it easier to feel and look cool with an element of fun and intrigue. All with FREE UK delivery when you order here at Yakwax!