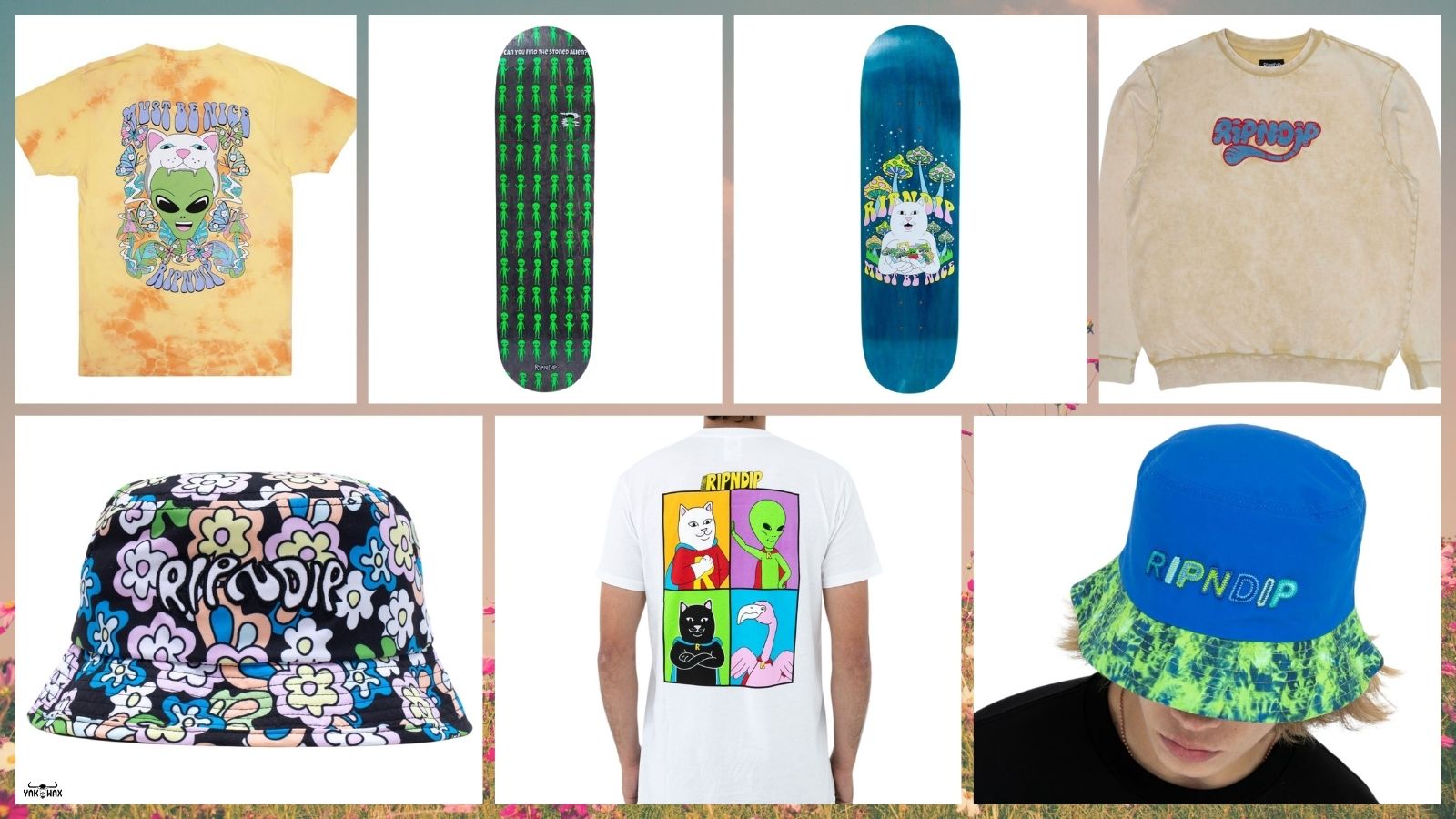 When you think of skate getup, the first consideration is always comfort. Riders will always go for comfortable, lightweight and easy to wear clothing and accessories to match their active lifestyle. Also, there are riders who prefer to wear interesting or intriguing getup to ensure that they stand out among the rest.
Luckily for today's skaters, there are brands that do push the envelope when it comes to designs that are quite intriguing, funny and memorable. Among those brands that appeal to today's riders is RipNDip. The brand is also known for their super cute, but naughty feline mascot, Nermal, who appears on almost every piece of clothing, accessory and other skate goods they offer.
If you haven't seen or tried anything from the brand, this is the right time to do so because the RipNDip Clothing and Accessories Summer 2021 has just arrived at Yakwax! You will surely find this collection quite exciting with numerous colourful pieces that can match any personality and style.
Browse below for our top five favourites from the RipNDip Clothing and Accessories Summer 2021 delivery
The cool and comfy RIPNDIP Nermrider Beach Long Sleeve T-Shirt (Baby Blue) is your absolute alternative for short-sleeved tees especially when the days are chilly. You can match this tee with any of your favourite skating jeans or trousers.
If you need a new skate deck with a touch of fun and eccentricity, the RIPNDIP Think Factory Skateboard Deck (Green) is the ideal option. This deck is perfect for street skating and has a mellow concave for effortless manoeuvring.
If your car is needing new air freshener to keep it smelling good during rides, the rad RIPNDIP Acid Playdo Air Freshener (Fresh laundry scent) is what you need right now. This is not your ordinary air freshener that comes with the aroma of clean, fresh laundry and rad graphic design.
Additional comfort is what you'll get with the vibrant RIPNDIP Prisma Cotton Dyed Bucket Hat (Multi). This bucket hat is ideal during those warm and nippy shredding days to protect and keep your head comfortable.
Don't let the Ripndip Kamasutra Blanket (Black) fool you - this blanket is super comfy and warm especially during the chilly nights. This wacky blanket is perfect for your own use or for giving away to your equally wacky friends.
When you love skate clothing, accessories and other related items with a dash of fun and weirdness, the RipNDip Clothing and Accessories Summer 2021 drop is your absolute go-to! Get yours now at Yakwax with FREE UK delivery.