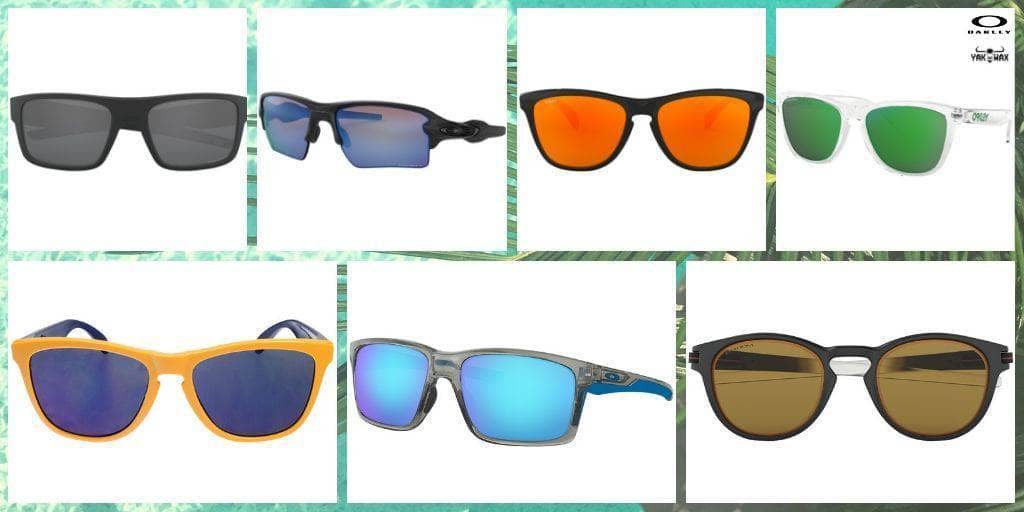 Cool sunglasses for the summer should include those with protective lenses particularly for super active wearers. When sunshine becomes a hazard, these sunglasses protect the eyes from glares, flying debris and distractions while you're skating, riding a bike or simply being outside for a casual stroll.

Not many brands provide everything you need from a rad pair of shades. Of course, most of us look for practical eyewear that can be worn anywhere and anytime. Some of today's brands are able to provide stylish sunglasses that are also protective and can enhance the overall experience of someone who's active outdoors. One of the go-to, top brands is Oakley with its decades of experience in providing stylishly cool shades with high-def optic and polarised lenses that ensure your eyes are protected from hazardous elements.

This is why we are super stoked to announce the arrival of the Oakley Summer 2019 collection here at the Yakwax store! Rad and colourful shades await in this latest drop, which you can wear at almost any situation and with any of your favourite getup.
Browse below for our top five favourites from this Oakley sunglasses delivery
Adding a pop of colour and style is easier than you think, especially when you have a pair of Oakley Frogskins Sunglasses (Crystal Clear, Prizm Jade). These shades are lightweight, comfortable to wear and doesn't slip even when you're sweaty while shredding on a sunny day.

When you want a hint of classic shades that never go out of style, a pair of stylishly cool Oakley Drop Point Sunglasses Matte Black (Prizm Black Polarized) is all you need. These shades are versatile and can be worn with almost any type of attire - from corporate to casual to sporty. Your one pair of shades that goes well with anything you wear!

Just because you'd like to wear plarised shades doesn't mean they aren't stylish, because this pair of Oakley Frogskins Lite Sunglasses Matte Black (Matte Clear, Prizm Sapphire Iridium) is the perfect example. Wear them when you're out and about - whether for skating or simply hanging out with your pals on a warm day.

If you need the perfect shades for skateboarding, the Oakley Latch Borderline Sunglasses (Matte Black, Prism Bronze) are the most ideal pair. Inspired by skateboarding, these shades are lightweight, durable and impact resistant, while protective and stylish at the same time.

If you want a fun pair of shades for the summertime, the Oakley Frogskins Sunglasses (Drop Off, Blue Iridium) are the perfect choice. These cool, fun and colourful shades protect your eyes from UV rays and stay firmly even when you're shredding on a hot, humid day.

Summer is definitely an enjoyable season for all sorts of outdoor activity and skaters, both young and old, love the warm weather for shredding and hanging out. Protecting the eyes is just one way to fully enjoy the season, so grabbing a pair or two of shades from the Oakley Summer 2019 drop is one step closer to perfecting your summertime shredding sessions and to ensure a more enjoyable outdoor experience altogether.

Order today at Yakwax with our superb FREE UK delivery!