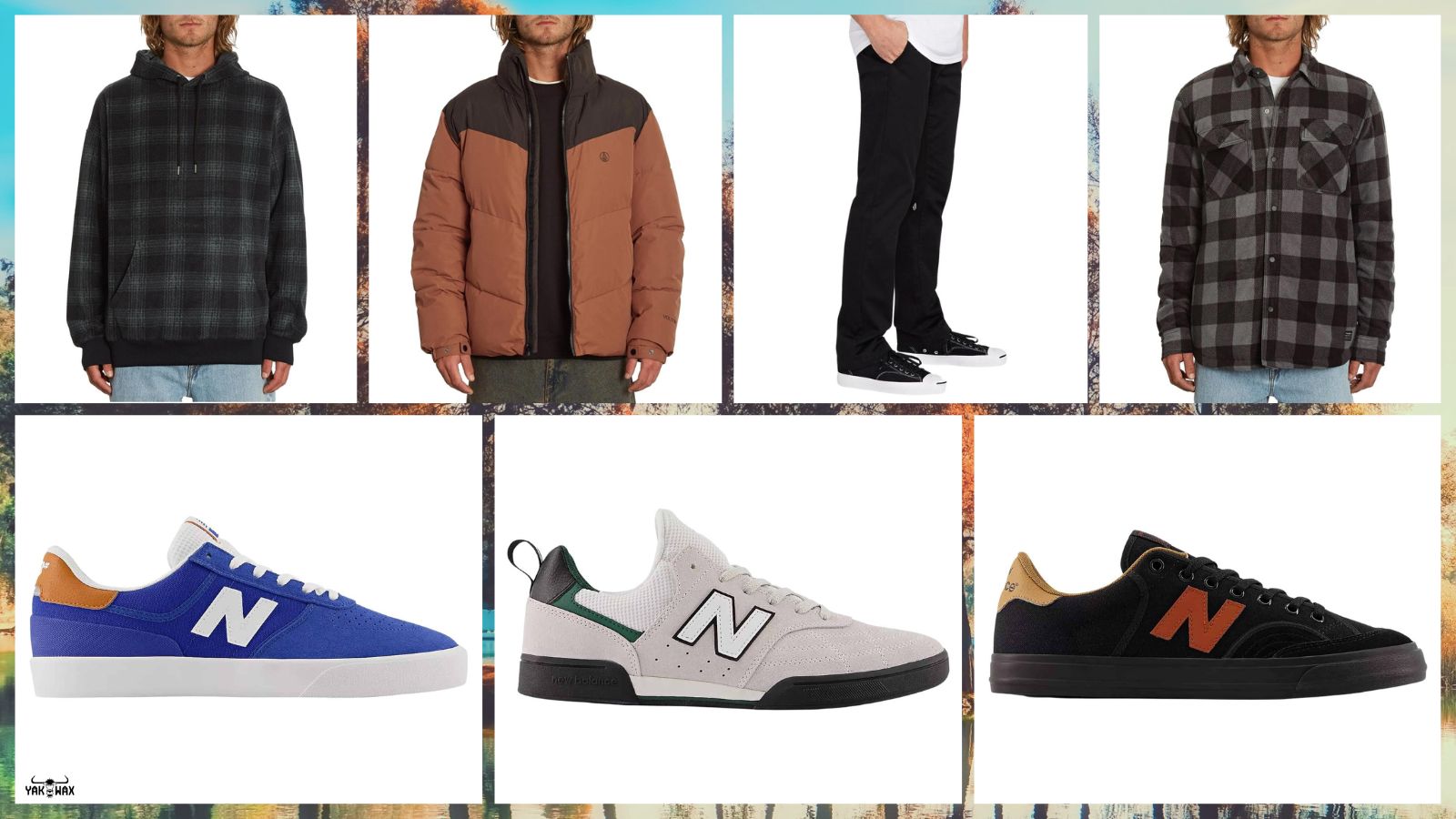 A great to way to start off the fall skating season is to have the proper footwear and clothing within your reach. Though not all riders will get a full range of seasonal offerings from their favourite shops and brands, it's ideal to have even just a few new items you can wear for the cooler fall months.
While not everyone will agree with having new getup each season, at least make it a habit to check what you have on-hand and plan to have additions when you need to. Fall months are still more manageable when it comes to outdoor activities such as skating, so it's best to shop for new pairs of skate shoes, thicker tops and outerwear, and trousers to complement your fall shredding getup.
When it comes to skate brands, there are many out there that offer a variety of stylish fall skating attire. Among the most popular with skaters are New Balance Numeric skate shoes and Volcom clothing. These brands are pros when it comes to style, design and function particularly for skaters and sporty individuals, so you can be sure there's an item or two from their seasonal releases.
This is why we are stoked to announce the arrival of the New Balance Numeric Skate Shoes & Volcom Clothing Fall 2022 drop here at the Yakwax store! Just from this drop alone, you will be able to complete your stylish fall skating getup.
Browse below for our top five picks from the New Balance Numeric Skate Shoes & Volcom Clothing Fall 2022 delivery
The New Balance Numeric NM288 Skate Shoes (Light Grey, Black) will keep you shredding for hours on end! These rad shoes are designed to reduce impact and stress points, so you can ride for longer without killing your feet.
If you enjoy riding on a chilly day, the Volcom Throw Exceptions Pullover Hoodie (Cedar Green) will definitely keep you warm and cozy. Whether for skating, hanging out or chilling indoors, this fleece pullover hoodie is the perfect outerwear this season and onward.
For those who love the outdoors, the Volcom Goldsmooth Jacket (Mocha) is the ideal outerwear that will keep you warm, dry and comfortable. It is water-repellent, durable and eco-friendly, so you can enjoy the outdoor lifestyle consciously and responsibly.
The Volcom Frickin Modern Stretch Chino (Black) will keep you skating in style and comfort. This Chino is made with REPREVE recycled polyester with ample stretch to let you shred with ease.
The New Balance Numeric NM272 Skate Shoes (Royal Blue, White) are designed for riding in comfort. These are classically designed NB skate shoes that provide great board feel, feet support, and durability for consistently superb riding.
Complete your fall skating style with proper footwear and attire from the New Balance Numeric Skate Shoes & Volcom Clothing Fall 2022 drop. All with FREE UK delivery at Yakwax for orders £50+!