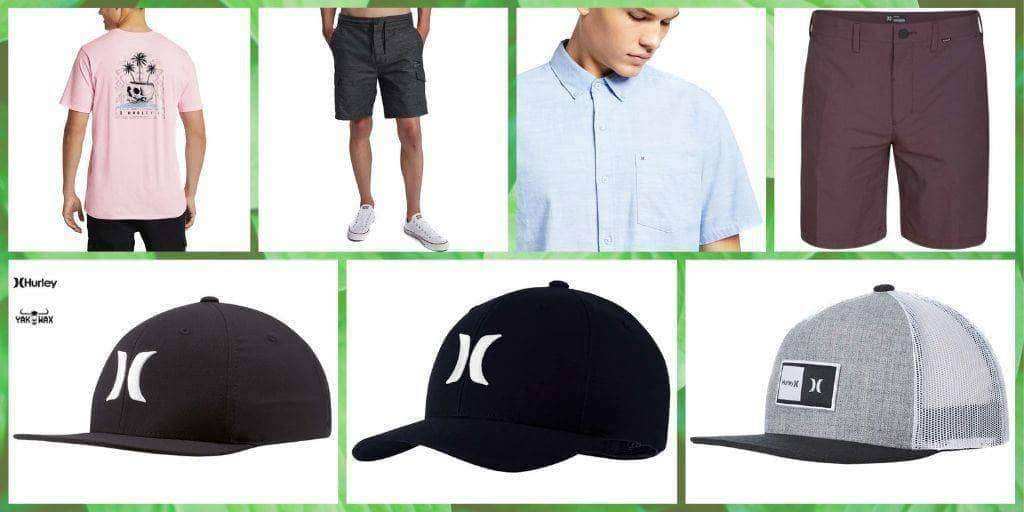 Surf style is not just about wearing rash vests and board shorts, but a combination of both surf wear and casual wear that surfers, fans and beach-lovers appreciate. It is about wearing something comfortable and effortlessly stylish while chilling at the beach and elsewhere.

One of the world's leading surf wear brands that truly understand style and clothing needs of surfers is Hurley. They are known for innovative surfing apparel with a focus on aquatic athletes' needs. While the brand is popularly known for their award-winning board shorts and wetsuits, Hurley's range of swim/surf wear and casual clothing and accessories are also a must-have among avid shredders and fans.

We are stoked to announce that the latest clothing and accessories of the Hurley Spring 2019 collection are now available at Yakwax! If you love going out for a surf or just hanging out with your mates, you will love this drop's selection of tees, shorts, shirts and caps for men and kids.
Below is our top five picks from this latest Hurley collection
The Hurley Boys Natural Hat (Cool Grey) is literally a cool hat for the warm months of spring to summer. If you love hanging out with your pals and shredding on a warm day, this is the ideal cap you can wear for hours.

Stay cool and comfortable with the Hurley Dri-Fit Chino 29 Shorts (Mahogany). These shorts are definitely made for outdoor activities, hanging out and/or non-formal/casual date nights.

This cool Hurley One & Only S/S Shirt (Blue Ox) can simply turn your laid-back style to casual comfort. Wear it with jeans, casual pants or chino shorts for a variety of style.

The new Hurley Boys Dri-Fit One & Only Hat (Black White) is the perfect cap for super active lads. If you need a cap that helps keep sweat away from your head, this is the ideal option.

If you love basic tees, the new Hurley Day Dream T-shirt (Pink Gaze) should be part of your surf style. Quite lightweight and comfortable to wear, this tee is perfect for hanging out at the beach after shredding the waves.

When style is of the essence for a young or mature surfer, there's always a way to achieve one without too much effort. The Hurley Spring 2019 drop is the best collection to start with. Get them here at Yakwax with FREE UK delivery!