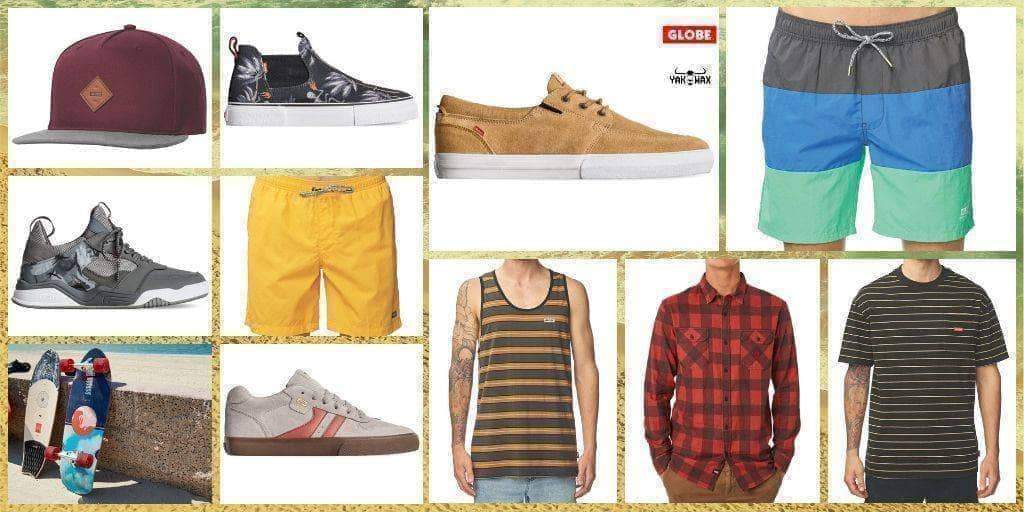 Most skaters choose to shop for gear, footwear and apparel from one single brand. This is quite understandable especially if the brand they choose is world-renowned and with a wide demographic.

Skate brands today are more focused on quality and innovation to make sure the core market sticks with them through the years. One of the most resonating skate brands is Globe. They are known for their innovative skate shoes that provide style, comfort and safety to avid riders.

We are stoked to announce the arrival of the Globe Spring 2019 collection here at Yakwax. From skateboards to shoes, t-shirts and tank tops, to shorts and pants, you can complete your spring skating attire from head to toe.
Here's a selection of our faves from this Globe spring drop
The Globe Option Evo Shoes (Blue Grey Black) is a combination of classic skate shoes design with today's innovations to ensure the rider's feet are well-cushioned and comfortable while shredding. If you love skateboarding in style, these are the perfect footwear for you.

If you love classic fit casual shirts, this cool and stylish Globe Appleyard Howler S/S Shirt (Midnight) is the perfect option. Whether you love effortless style or cool and simple attire for shredding or casual situations, this shirt meets the best of both worlds.

If you love riding the waves and shredding the streets, the Globe Sun City Surf Skateboard (Onshore/Blackball) is one board that lets you cruise on the ground with a surfing feel.

Skating in jeans should never be an issue with the stylish Globe Goodstock Jeans (Lead). These jeans are definitely made for shredding as they allow your legs to bend and move while skateboarding. If you need jeans for all sorts of outdoor activity or for simply hanging out, these are the perfect pair for you.

The quick-drying Globe Sidekicker Poolshorts (Carrot) are essential for spring-summer swimming sessions with your mates. Some riders find these pool shorts easy to take and wear whenever they need to take a quick dip as they fold easily and fits inside small cinch and shoulder bags.

There's always a reason to shop for skate wear, shoes and gear especially when there are new releases from top brands. Globe's Spring 2019 collection is no exception, so better shop today at Yakwax to get hold of the latest and coolest stuff from Globe! All with FREE UK delivery when you order.