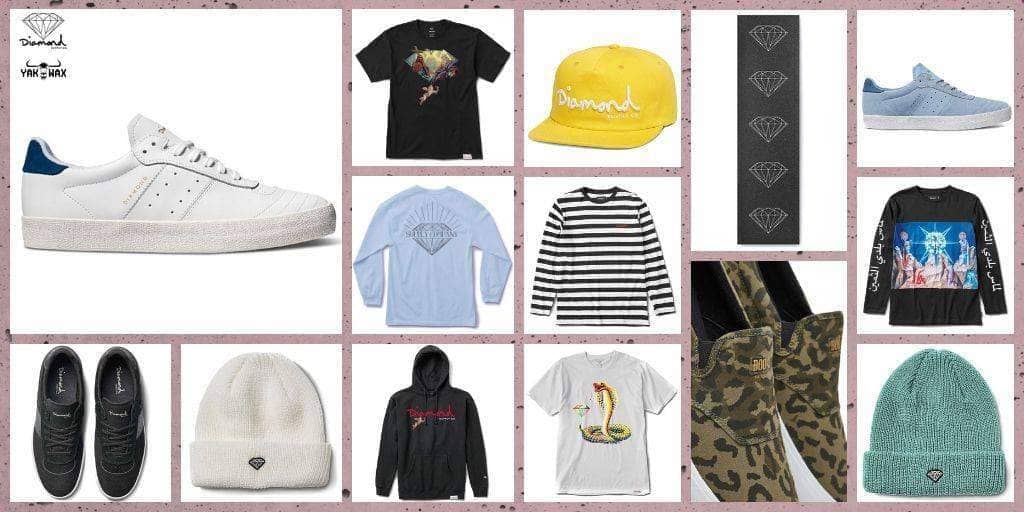 Keeping stylishly cool while staying warm is essential during the colder months from fall to winter. But sometimes it's hard to wear such getup during these months because your options are limited or you have the same exact pieces you wear routinely.

However, the fall season brings in new opportunities to shop and update your lack-luster collection of fall apparel, shoes and accessories. Even with just the addition of one hoodie and a pair of new skate/street shoes can change your overall look. If you're really on a tight budget, a new beanie or cap and t-shirt can do the trick.

This is why we are super stoked to announce the arrival of the Diamond Supply Fall 2018 collection at the Yakwax store! With a great selection of tops, skate shoes, caps and beanies, you won't run of options this season.
Below is our top five picks which gives you a glimpse of this Diamond collection
If you need the usual comfy and breathable tee for an afternoon shred or hanging out, the new Diamond Supply Co. Praise T-Shirt - Heather Grey is the perfect top. This tee will complement any of your favourite jeans and pants, as well as any of your skate and casual shoes.

The Diamond Supply Co. Barca Skate Shoes - White has a classic and classy style that a white pair of shoes should have. Whether you skate or not, these shoes are made for flaunting skate and street style without effort!

Set aside your typical plain black hoodie and go for a more interesting one with the new Diamond Supply Co. Bombay Zip Up Hoodie - Black. Still a black hoodie but with a touch of art and mystery for a cool style on an equally cool fall weather.

For laid-back and effortless fall style, the new Diamond Supply Co. Brilliant Patch Beanie Diamond Blue is an ideal headwear to keep warm while looking cool.

If there's one pair of shoes to wear for skating and for other situations, the new Diamond Supply Co. Boo J Slip On Shoes - Cheetah are perfect for both. Totally built for skating and designed to exude stylish appeal.

Now, who says you can't be stylish and classy with skate apparel, accessories and footwear? Diamond Supply definitely understands the need for function and style among skaters and avid fans.

Whether you skate or you're just a guy next door, the Diamond Supply Fall 2018 collection has something for you to enjoy this season. Order yours right here at Yakwax and enjoy our superb FREE UK delivery!