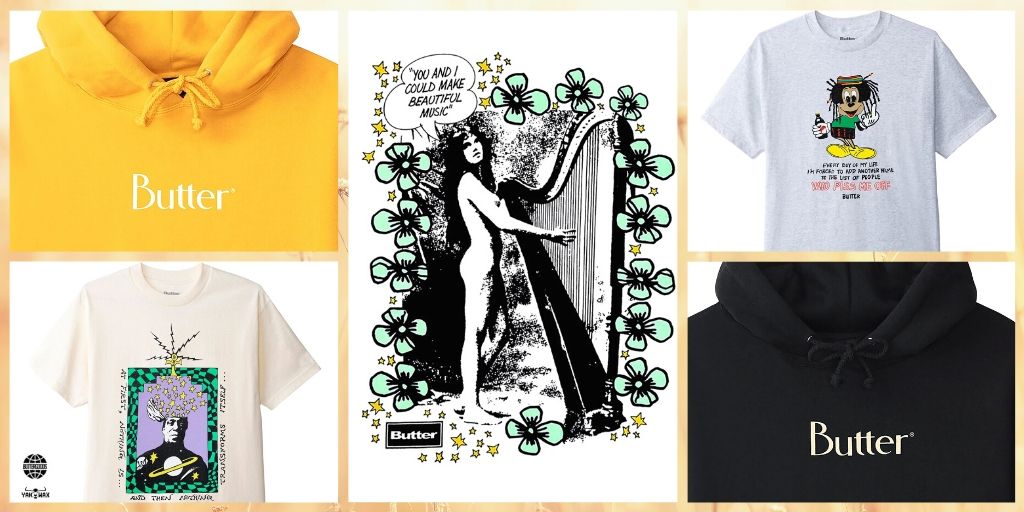 Graphic print designs are always "in" when it comes to skate and street style fashion. There's the popular "logo" designs that can be minimal or more complex, and there's the colourful and artsy style. You will always see them on t-shirts and hoodies since these tops have ideal surface areas for print.

Flashing a new top this summer is one way to celebrate the warm season for shredding. It's that time of year to go out and enjoy the sunny months while staying at a safe distance and also enjoying some outdoor fun. You can either go bold or neutral when it comes to colours and designs; but most importantly, it's best to stay comfortable while skating or hanging out under the sun.

One of the most popular brands today that produce both simple and more artsy men's tops is Butter Goods. They are known to produce cool and edgy designs on t-shirts, hoodies, and other men's tops that match well with various bottoms. Their colour selections and graphic designs resonate to many skaters and also among fashion fanatics.

We are stoked to receive the Butter Goods Summer 2020 drop here at the Yakwax store! With several tops to choose from to match your skate and street style this season, you can be sure to not run out of rad getup every time you go out for a shred.
Browse below for our top five picks from this Butter Goods drop
Match the bright summer day with the new Butter Goods Classic Logo Pullover Hood (Gold). This yellow gold hoodie will make you feel and look vibrant everywhere you go! Make sure to take it along with you on a chilly morning or evening shred to keep you comfy.
A bit of a whimsy and edginess won't hurt especially when you're wearing the rad Butter Goods Everyday T-Shirt (Ash Grey). This t-shirt has a neutral colour, so you can wear it with any of your favourite jeans or shorts.
If you love artsy and cool design, the new Butter Goods Harp T-Shirt (White) is the perfect option for a warm summer shred. Since it's a white t-shirt, it goes perfectly well with jeans, shorts, trousers, joggers and other warm weather bottomwear.
For fan of neutral and non-bold colours, the Butter Goods Classic Logo Pullover Hood (Black) is perfect for those chilly mornings and nights outside. Surely, the warm summer days are in, but sometimes you need a light outerwear to beat the nippy hours.
Artsy tops will always be a winner for many skaters, so this cool new Butter Goods Transform T-Shirt (Cream) should be a part of your summer getup this time around. When you need a lightweight top on a hot summer day, this is one easy to wear rad t-shirt.

Completing your summer skate and street style should be easier this time with the Butter Goods Summer 2020 collection. Get yours today and you'll be rocking the season's shredding style in no time! All with FREE UK delivery when you order at Yakwax.